ECMWF has redesigned the web portal of the European Flood Awareness System (EFAS) to create a more flexible, modern and personalised user experience. EFAS was developed by the European Commission's Joint Research Centre (JRC) and has been operational since 2012 as part of the Copernicus Emergency Management Service. The new portal (accessible via https://www.efas.eu/) became operational in January 2019.
ECMWF is the computational centre for EFAS. As such it is responsible for producing twice-daily flood forecasts and making them available to EFAS partners. The latter is done through EFAS-IS, an internet application that provides access to the forecasts through a map viewer. EFAS-IS also includes tools to issue flood notifications (formal, informal and flash flood) and to collect feedback on the quality of the forecasts and formal notifications.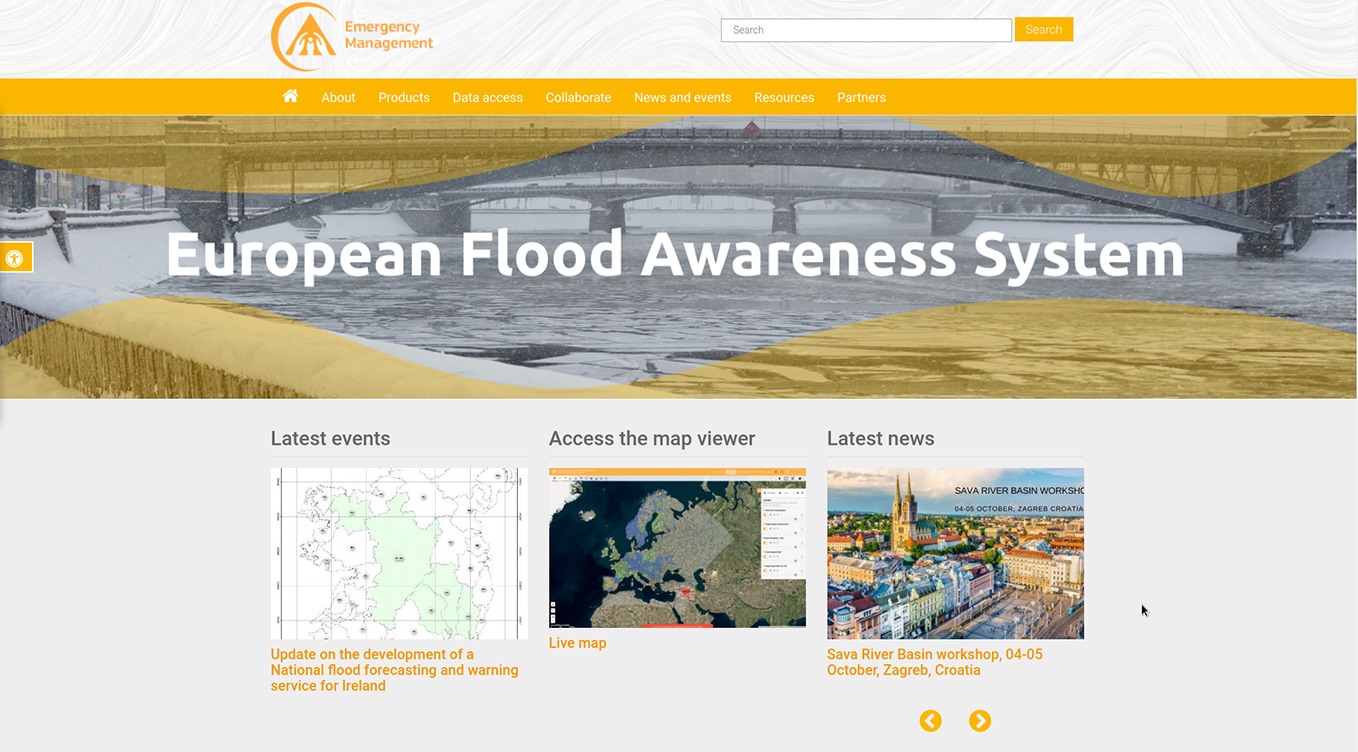 Main features
The new portal uses predefined roles and associated permissions to control access to and management of the web portal, including the map viewer displaying the forecasts. User authentication is performed using a single-sign-on application. Once logged in, users can access various sections of the portal according to their credentials. A flexible, continuous integration development environment ensures a faster release cycle for new features. This was achieved using a container technology approach that decreases the time needed for development, testing and deployment of new versions of the EFAS-IS application.
The new web interface introduces modern tools, such as a dashboard, where users can create a personalised environment focusing on information they are most interested in, through widgets created from the map viewer. In addition, users with the right credentials can directly manage the portal by creating pages, editing text, uploading graphs etc. The portal also provides tools for EFAS forecasters based in dissemination centres to create flood notifications. This is managed through an intuitive system that behaves like a shopping cart which, once the notification process is complete, automatically sends warning emails to EFAS partners to inform them of possible flood events, and updates the notification layer so that maps of the ongoing flood warning can be visualised. The cart functionality also enables forecasters on duty to send a daily overview to the Emergency Response Coordination Centre (ERCC) of the European Commission containing information on ongoing and predicted floods in Europe.
Finally, the collection of in-situ qualitative evaluations of notifications and of missed events by EFAS partners is now facilitated and managed through the web interface. A simple webform, accessible directly from the viewer, collects user feedback in a way which ensures that all responses can be categorised and analysed, for consideration and integration in the EFAS development cycle.
The 18‑month‑long portal development work was supported by the JRC, other EFAS centres and EFAS partners, who helped in particular with the design and testing of the application.