The development of our Integrated Forecasting System into a more complete Earth system model has created an opportunity to analyse and predict more aspects of the natural environment than purely the weather.
The Copernicus Earth observation programme
Copernicus is the European Union's (EU) flagship programme for monitoring Earth's environment using satellite and in-situ observations. It delivers operational data and information services through six themed Copernicus Services. These deliver value-added products, tailored to more specific public or commercial needs.
We are implementing the Copernicus Atmosphere Monitoring Service (CAMS) and the Copernicus Climate Change Service (C3S). We also contribute to the Copernicus Emergency Management Service (Copernicus EMS) and work closely with the Copernicus Marine Environment Management Service (CMEMS).
Our involvement started with coordination of the pilot atmosphere monitoring service (MACC-II) and a precursor of the climate change service (ERA-CLIM2). We were awarded the implementation of C3S and CAMS in November 2014, and the first phase was completed in summer 2021. The second phase commenced formally in July 2021 and will run for the next seven years.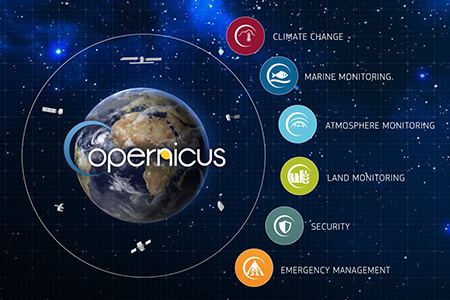 Destination Earth
Destination Earth – DestinE – is an ambitious initiative to develop a highly accurate digital twin, or replica, of our planet that will make it possible to interactively explore various natural processes and the impacts of human activities. For example, it will allow users, including decision- or policymakers, to test a range of scenarios and potential climate change mitigation strategies.
Part of the European Commission's Green Deal and the Digital Strategy, the initiative will initially comprise several digital twins of Earth. These separate twins will ultimately be joined together to form one comprehensive digital twin of the complete Earth system.
ECMWF, the European Space Agency (ESA) and the European Organisation for the Exploitation of Meteorological Satellites (EUMETSAT) are the three organisations entrusted by the EU to deliver the first phase of the programme; our responsibility is for building the digital twin engine and the development of the first two digital twins – on weather-induced extremes and climate change adaptation – by 2024.
The digital twins draw on our world-leading expertise in global numerical weather prediction as well as expertise in advanced high-performance computing, data handling and machine learning on some of the largest infrastructures in the world.
DestinE will contribute to revolutionising the European capability to monitor and predict our changing planet, complementing existing national and European efforts such as those provided by the national meteorological services and the Copernicus Services mentioned above.