This project has ended |
-
ERA-CLIM2 aimed to produce reanalyses, physically consistent datasets that describe the evolution of the global atmosphere, ocean, land-surface, cryosphere and the carbon cycle. Reanalyses are generated by combining first guess estimates, usually defined by model forecasts, with data from a range of observing platforms (surface, upper-air, satellites) using objective methods (named data assimilation systems).
Reanalyses covering long period (say, a few decades), named climate reanalyses, can be used to monitor the evolution of the Earth-system climate, and they provide long (multidecadal) time series of gridded estimates for many different climate variables.
Reanalyses are one of the main contributions of the ERA-CLIM2 project to climate science. The other two key contributions are to rescue and prepare observations, and to advance the data-assimilation systems required to generate operational reanalysis, such as the ones planned by the Copernicus Climate Change Service (C3S). Without the observation and the research and development activities performed also by this project, and the former ERA-CLIM project (Grant Agreement No. 265229 ending 31 December 2013), C3S ongoing and future reanalyses would be of inferior quality.
ERA-CLIM2 was at the heart of a concerted effort in Europe to build the information infrastructure needed to support climate monitoring, climate research and climate services, based on the best available science and observations. ERA-CLIM2 was one of the designated precursor projects of C3S, and indeed rescued and post-processed observations. Assimilation methods and reanalyses produced thanks to ERA-CLIM2 funds have started to help the development and implementation of the C3S services.
The ERA-CLIM2 activities can be grouped into four main areas:
Observation data rescue and post-processing – ERA-CLIM2 included a major effort on data rescue for historical in-situ weather observations around the world, and substantial work on the reprocessing of satellite climate data records;
Data assimilation research and development –ERA-CLIM2 led to the development and testing of 'coupled assimilation methods', capable of including observations from different Earth system components (land surface, ocean, sea-ice, atmosphere, chemical components, etc.) to produce a more consistent estimate of the evolution of the Earth system;
Reanalysis production – ERA-CLIM2 generated innovative reanalysis datasets, such as the first coupled ocean-land-atmosphere reanalysis of the 20th century, and provided access to the reanalysis data;
Evaluation and uncertainty estimation – Activities under this theme aimed to develop visualization and evaluation methods capable of giving indications of the uncertainty in the reanalysis, and to apply them to assess their quality.
C3S provides the natural vehicle to transfer research and development funded by the European Union framework programs into operational systems and services. Indeed, the interaction between ERA-CLIM2 and C3S has been a very effective mechanism for integrating outcomes of ERA-CLIM2 and the other four precursor projects into user-oriented applications. C3S also provides a natural way to continue some of the activities started within the ERA-CLIM2 project, transforming them into lasting operational services. Examples of ERA-CLIM2 activities with high potential for contribution to C3S are:
Development of a coupled ocean/sea-ice/land/atmosphere assimilation system that can be used to generate climate reanalyses for the 20th century and consistently derived reanalyses of the global carbon cycle; the version of the CERA system used to generate CERA-SAT has been handed-over to C3S, so that it can be used as a prototype coupled assimilation system to generate the next C3S reanalysis, ERA-6.
Development of a global data rescue registry for keeping track of in-situ climate data rescue efforts world-wide; based on activities started in ERA-CLIM, and pursued in collaboration with the ACRE initiative and many other existing data rescue efforts and projects;
Development of a global in-situ snow data collection based on work started in the CORE-CLIMAX coordination activity;
Further development of the ERA-CLIM Observation Feedback Archive and associated tools.
Numerous quality-controlled historical weather measurements with potential high impact for climate reanalysis have already been added to international public data collections such as ICOADS and ISPD, for use in reanalysis and other climate applications.
Understanding climate change is highly dependent on the availability of global satellite and conventional observational data for the atmosphere, the land, the ocean and sea-ice, and the development of coupled ocean-land-atmospheric models and assimilation systems that can ingest these data. A continuous cycle of research and development activities in data assimilation, data rescue and observation re-processing, production, and diagnostic and evaluation is required to refine further the reanalyses, so that they can provide a better, closer-to-reality image of the time evolution of the Earth system.
Preliminary assimilation experiments have shown that the amount and quality of those data justify a full reanalysis, using all conventional (surface and upper-air, and not just surface as it was done in CERA-20C, the coupled reanalysis produced within ERA-CLIM2) and early satellite observations, back to the early 20th century. Such a reanalysis would realize the potential of the data collected and would lead to a much better description of the climate evolution of this period. The only way to be able to continue these essential activities is to fund them either through a new stream of Horizon-2020 projects, or directly as part of the C3S activities.
Further information about the project
The ERA-CLIM2 project website includes information about the project, the list of partners, the list of publications, all the reports associated to the project's deliverables, links to data portals and links to relevant reanalysis websites. It also includes links to the four project General Assemblies, where all the presentations can be accessed and downloaded.
The ERA-CLIM2 flagship reanalysis is described in 'CERA-20C: A Coupled Reanalysis of the Twentieth Century'.
This project has received funding from the European Union's Framework Programme under grant agreement number 607029.
ERA-CLIM2 is an international research project in the area of climate reanalysis, coordinated by ECMWF.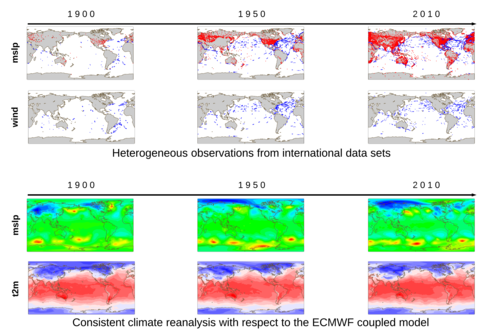 Atmospheric and ocean observations rescued and stored in international data sets are assimilated by the ECMWF coupled assimilation system to produce a coupled global reanalysis over the 20th century (CERA-20C)
The core objective of ERA-CLIM2 project is to apply and extend the current global reanalysis capability in Europe, in order to meet the challenging requirements for climate monitoring, climate research, and the development of climate services. The project focus is on production and assessment of multi-decadal reanalyses of the global climate system including atmosphere, land, ocean, and cryosphere, combined with consistent information on the carbon cycle. Two types of reanalysis will be produced: an extended climate reanalysis of the 20th century at moderate resolution, and a higher-resolution reanalysis of the satellite era for near-real time climate monitoring. The project includes a coherent research and development program in coupled data assimilation, specifically targeted to extend current capability to future fully-coupled climate reanalyses. In addition, substantial work will be directed at data recovery, reprocessing, and quality control of input observations for reanalysis, with emphasis on improving and extending the usable satellite climate data records, and expanding access to early 20th century in-situ observations. The challenging problem of providing meaningful uncertainty information for users of reanalysis data will be addressed by using ensemble techniques in reanalysis production, by conducting a variety of detailed quality assessments of input observations as well as reanalysis output, and by providing open and complete access to data and data visualization tools for users.
Meetings
First General Assembly, ECMWF, 19-21 November 2014
Second General Assembly, EUMETSAT, 9-11 December 2015
ERA-CLIM2 M27 Review/Progress Meeting, 25-26 April 2016
ERA-CLIM2 User workshop on observations for reanalyses – Organized as one of the sessions of the 9th ACRE (Atmospheric Circulation Reconstructions over the Earth) Workshop and Historical Weather and Climate Data Forum, University of Maynooth, Ireland – 20-24 June 2016. You can read a short report of the ERA-CLIM2 contribution.
Workshop on Coupled Data Assimilation, planned to be co-organized with Météo-France and the WMO, Toulouse – 18-21 October 2016 (http://www.meteo.fr/cic/meetings/2016/CDAW2016/)
WP2 Progress Meeting – Planned to be organized in conjunction with the 'International workshop on coupled data assimilation' at Météo France, Toulouse – 18-21 October 2016
ERA-CLIM2 3rd General Assembly – University of Vienna (organized by L Haimberger) - 16-18 January 2017
ERA-CLIM2 36M Review Meeting - University of Vienna - 19 January 2017
ERA-CLIM2 4th General Assembly – University of Bern - 12-13 December 2017
ERA-CLIM2 Symposium on 'Climate Reanalyses and Services for Society' - University of Bern - 14 December 2017
ERA-CLIM2 48M Review Meeting - University of Bern - 15 December 2017
More information
This project has received funding from the European Union's Framework Programme under grant agreement number 607029.