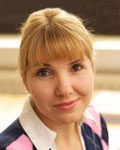 Marijana Crepulja
Analyst in the Forecast Department
"Having worked in operational meteorology in Serbian and Czech Meteorological Services and experience giving a presentation at an ECMWF workshop, I thought ECMWF would be a stimulating place to pursue my career. Settling into work was much helped by the professional and friendly colleagues. At the Centre, I work on acquisition and pre-processing of satellite data for chemical processes modelling and enjoy being part of the unique MACC atmospheric services in Europe."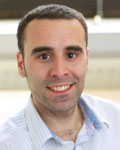 Xavier Abellan
Analyst in the Forecast Department
"Before coming to ECMWF, I worked in user support at the Barcelona Supercomputing Centre for five years. Joining the User Support Section at ECMWF seemed a natural step as I can build upon my previous experience whilst developing my expertise in another international organisation. I find it particularly rewarding using my knowledge to help users overcome problems and get the most out of the Centre's resources."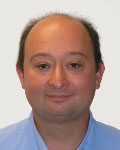 Vincent-Henri Peuch
Head of Atmospheric Composition Division, in the Research Department
"In 1997, whilst working for Météo-France, I visited the Centre and decided it would be a great place to work. When I joined the Centre as GMES/MACC Coordinator in September 2011, I found that those feelings from long ago were correct. I have been impressed by the high commitment of everyone here and their wanting to work together to ensure ECMWF remains a world leader."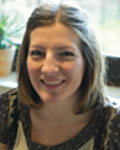 Katalin Novak
HR Assistant in the Administration Department
"Having already worked in a UN agency in Hungary, I was keen to continue using my HR expertise in an international organisation. Also working with scientists for the first time was an appealing prospect. As a member of the HR Team, since September 2011, I have the enjoyable task of helping new members of staff settle into ECMWF's multicultural environment."