Between mid-January and the beginning of April, Paolo Andreozzi, Katerina Anesiadou, Luise Schulte and Florentine Weber started at the ECMWF site in Bonn, Germany. As the first cohort of the German Meteorological Service's Early Career Fellowship Programme, they are initially working at ECMWF for a period of two years. The programme also involves local research institutes, such as the Center for Earth System Observations and Computational Analysis (CESOC), the Universities of Cologne (UoC) and Bonn (UB) and the Forschungszentrum Jülich (FZJ). To support talented research graduates towards careers in international research organisations, ECMWF has carefully selected current research topics, while the German Meteorological Service (DWD) has assisted in pushing the boundaries of science and improving forecasting by coordinating an appropriate programme.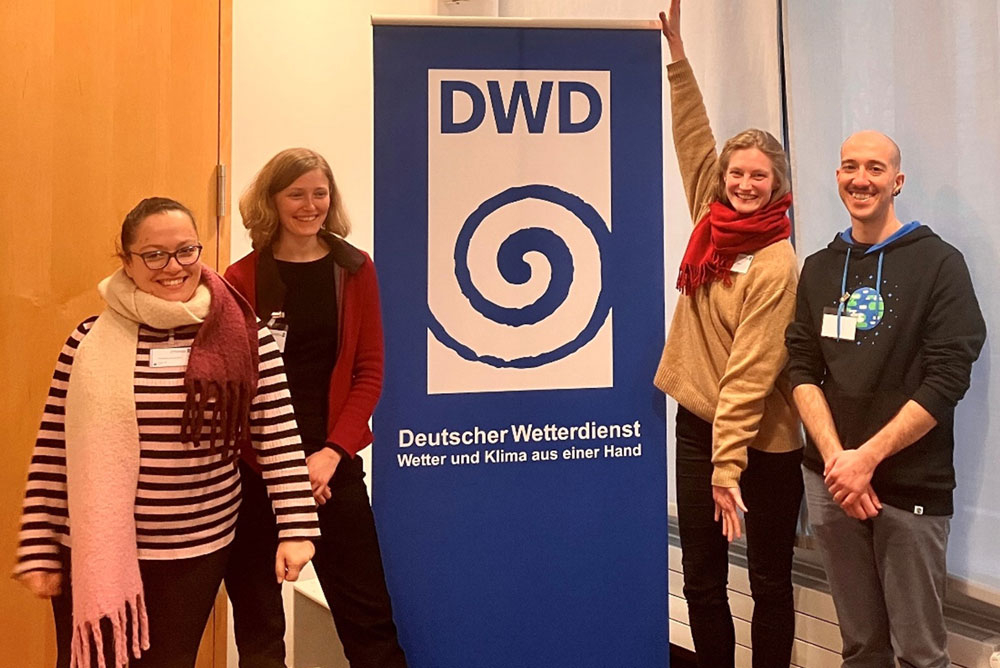 CESOC, with founding directors Susanne Crewell (UoC), Jürgen Kusche (UB) and the late Astrid Kiendler-Scharr (FZJ), is a network for scientific research cooperation and knowledge transfer across disciplines in the area around Bonn and beyond. Building bridges between activities in CESOC and ECMWF will provide ECMWF with links to local research infrastructures and large collaborative research projects, for example on atmospheric and surface processes relevant to climate in the Arctic.
The vacancies for the first cohort of fellows attracted applications from over 100 young scientists from ECMWF Member and Co-operating States. The competitive selection process resulted in four fellowships:
Modelling water in Arctic clouds – Supercooled liquid-containing clouds are crucial for the radiation balance at the surface and thus for the Arctic climate system, but their representation is challenging for numerical weather prediction models, leading to systematic errors in the Arctic and beyond. Luise Schulte will use observational data from the one-year ice drift campaign MOSAiC (2019 to 2020) for verification and informed model development of Arctic clouds. Her work at ECMWF is supported by Linus Magnusson, Jonathan Day, Richard Forbes (all ECMWF) and Susanne Crewell (UoC). Luise obtained her Master's degree in physics at the University of Frankfurt, where she worked on a case study of Arctic mixed-phase clouds using the ICON model (DWD).
Modelling the regional water cycle and temperature in urbanised areas – By 2050, more than two-thirds of the world's population will live in urban areas, the UN predicts. Due to the increasing importance of cities, their adequate representation in weather forecasts is crucial. Comparing observational data with weather predictions, Florentine Weber will investigate the impact of cities on the hydrological cycle at high resolution. This interdisciplinary research is supported by Gianpaolo Balsamo and Linus Magnusson (both ECMWF) and carried out in collaboration with CESOC. As a physicist, Florentine recently completed her PhD at the University of Sheffield, UK, discovering why the atmosphere over land has become drier.
Use of altimeters in a coupled data assimilation system – Altimeters are currently used in ocean and wave data assimilation, providing sea-surface height and ocean wave height information. Additional information these satellite instruments could provide regarding the atmospheric state is currently treated as 'corrections' and removed in the pre-processing of the observations. Katerina Anesiadou will investigate the potential of extracting new atmospheric information from altimeter measurements by incorporating them in a coupled data assimilation system, using the ground-based GNSS Zenith Total Delay assimilation methodology. Her research work is supported by Sean Healy and Patricia de Rosnay (both ECMWF) in cooperation with Jürgen Kusche (Institute of Geodesy and Geoinformation, UB). Katerina is a physicist with an MSc in Environmental Physics (University of Bremen, Germany) and has recently completed a fellowship about nowcasting of extreme weather events (University of Padua, Italy).
Meteorological effects of atmospheric composition – Aerosols and their composition play an important role for climate by changing radiation and initiating cloud formation in addition to their impact on air quality. Aiming to improve the operational representation of prognostic aerosols at sensible computational costs, a suitable configuration of ECMWF's Integrated Forecasting System including atmospheric composition will be used to understand the effects of day-to-day variations of aerosol species on relevant forecast fields. Paolo Andreozzi will explore this project under the supervision of Robin Hogan and Richard Forbes (both ECMWF) in collaboration with Birger Bohn (FZJ) and Ulrich Löhnert (UoC). Such research will benefit from the collaboration with the CESOC research partners on the chemistry and observations of aerosols. Paolo recently graduated at the University of Hamburg with an MSc thesis on the properties of Kelvin wave errors in ECMWF deterministic forecasts.
At the end of January, the Fellowship programme started with a kick-off meeting at DWD in Offenbach. Further events and workshops as well as training and mentoring aim to provide an outstanding professional development experience.
For details about the Fellowship programme, visit: https://www.dwd.de/DE/derdwd/arbeitgeber/einsteigen/fellowship/fellowship.html.