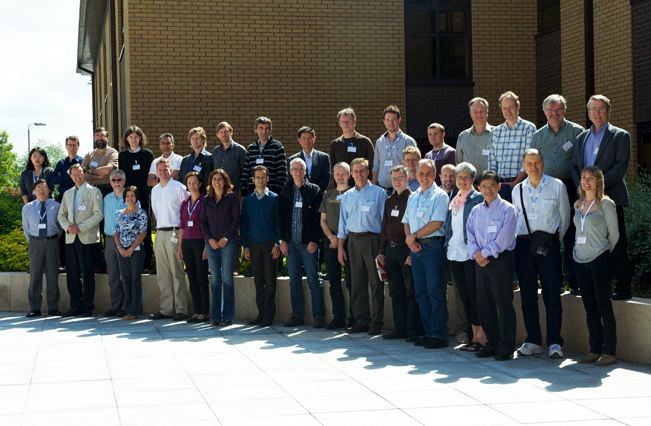 ECMWF hosted the Fifth EUMETSAT ROM SAF user workshop on Applications of GPS radio occultation measurements, on June 16-18, 2014.
Description
GPS radio occultation (GPS-RO) measurements are now an important component of the global observing system, because they complement the information provided by satellite radiances. This workshop, jointly organized by ECMWF and the EUMETSAT Radio Occultation Meteorology Satellite Application Facility (ROM-SAF), will review the use of the GPS-RO data at the major NWP centres, and explore how the assimilation of the measurements can be improved using more sophisticated observation operators. The value of GPS-RO as "anchor measurements" for estimating both the bias correction of satellite radiances and the model error term in "weak constraint" 4D-Var will be emphasised. The workshop will explore the potential new applications of monthly-mean and seasonal GPS-RO climatologies in NWP/climate model development and testing. The latest work on climate monitoring with GPS-RO will be reviewed.
This workshop was co-sponsored by ECMWF and the EUMETSAT Radio Occultation Meteorology Satellite Application Facility (ROM-SAF).
Local organizer: Dr Sean Healy
Contact: rd-workshop@lists.ecmwf.int
Programme

Programme
Presentations
General issues

The role of GPS-RO in the global observing system

John Eyre (Met Office)

The impact and importance of GPS-RO in NWP

John Derber (NOAA)

Status and aims of the FORMOSAT-7 (COSMIC-2) mission

Nick Yen (NSPO)

Improvements in the procession of GPS-RO data

Sergey Sokolovskiy (UCAR
Climate applications

Stratospheric temperature trends: Our evolving understanding

Dian Seidel (NOAA)

Generation of GPS-RO climate data at the ROM SAF

Hans Gleisner (DMI)

Climate model testing with GPS-RO

Mark Ringer (Met Office)

Climate monitoring with GPS-RO: Towards SI-traceable records

Gottfried Kirchengast (WEGC)
NWP assimilation

Impact of GPS-RO at Environment Canada

Josef Aparicio (Environment Canada)

Progress in GPS-RO assimilation at NOAA

Lidia Cucurull (NOAA)

Assimilation of GPS-RO with 2D operators

Sean Healy (ECMWF)

The impact of GPS-RO on typhoon forecasts

Bill Kuo (UCAR)

Progress in forward modelling of L1 and L2 bending angles

Ian Culverwell (Met Office)
Atmospheric Studies with GPS-RO

Tropopause studies with GPS-RO

Bill Randel (NCAR)

Gravity wave studies using GPS-RO

Torsten Schmidt (Helmholtz Centre Potsdam)

Planetary boundary layer studies with GPS-RO

Feigin Xie (Texas A&M University-Corpus Christi)

Accuracy of humidity information retrieved from GPS-RO

Rob Kursinski (Moog Advanced Missions & Science)
Proceedings
The workshop was attended by around 30 international scientists, with expertise in both GPS radio occultation and climate applications. It followed the standard format of a series of presentations, followed by a day in NWP and climate working groups, and then a plenary session.
The NWP working group endorsed the ECMWF strategy of moving towards assimilation with a two-dimensional observation operator. In fact, it was clear that we are leading the work in this area: the other operational centres are unlikely to have this capability in the next few years, and they will look to ECMWF for guidance.
The climate working group stressed the need for increased co-operation between GPS-RO and broader climate communities. Although it seems clear that GPS-RO will become increasingly useful for climate applications in the coming years, it was emphasised that new products would have to be accompanied by a robust estimate of the uncertainty.
The value and continued importance of GPS-RO in both operational NWP and reanalysis applications was emphasised at the plenary session. Overall, this was a useful and enjoyable workshop, which benefited greatly from the diversity of the participant's research interests.

workshop recommendations