The ECMWF Summer of Weather Code (ESoWC) has been engaging external coders to work on open-source developments for the last five years. Several of the software solutions developed have advanced our web services, visualisation or other services. It has been an exciting opportunity for mentors from many sections across ECMWF to work with motivated participants from around the world, who receive a stipend of €5,000 per selected project.
ESoWC has become well known in the community and is becoming a key driver of innovation at ECMWF. However, with Earth-science-related services which ECMWF runs for the EU becoming more and more involved in ESoWC, the name no longer fully reflects what ESoWC is about. Also, the community addressed by the event is expanding. We have therefore decided to continue the event in 2023 under a new name: 'Code for Earth'.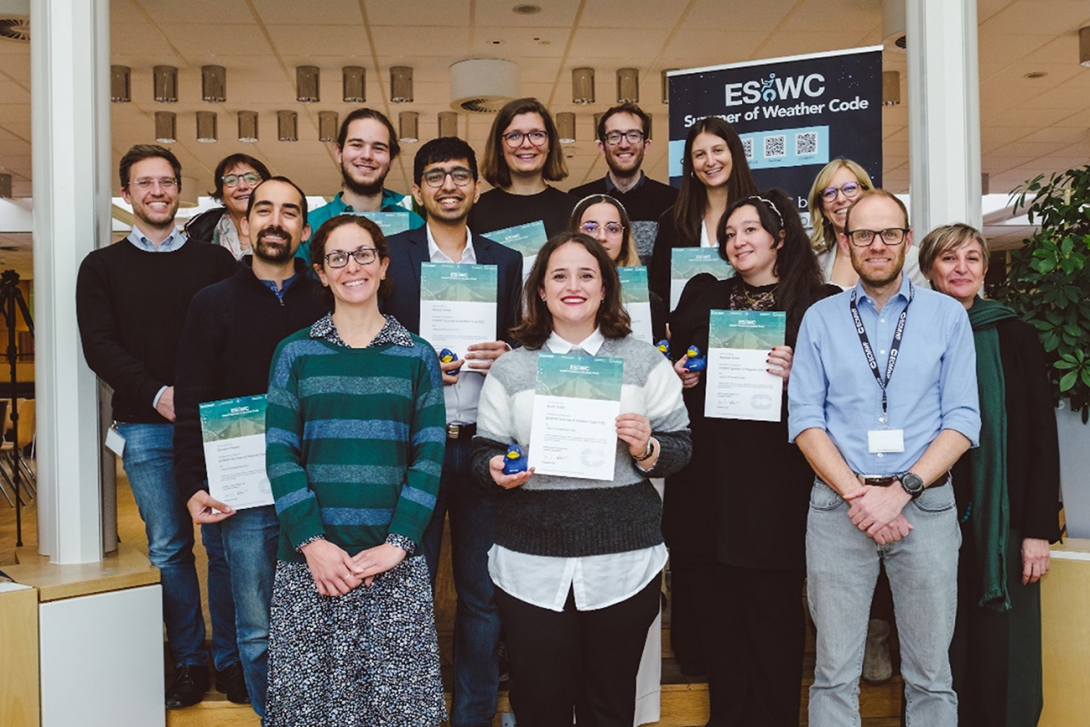 The programme will continue to drive Earth science innovation while fostering cutting-edge developments to fulfil specific needs in data analysis, data management, visualisation or services across ECMWF activities.
These include core activities, the EU-funded Copernicus Climate Change and Atmosphere Monitoring Services run by ECMWF, and the EU's Destination Earth initiative, in which ECMWF participates.
Six innovations in 2022
ESoWC 2022 ended with a full day of presentations at ECMWF's premises in Bonn, Germany, on 28 September 2022. After two years of virtual events, the six teams selected last year could meet face-to-face with their mentors to present their final outcomes. The talks were also livestreamed. The new open-source projects focused on web development, software development, and applied data science.
Two projects concerned Copernicus activities. They were 'Adjusting climate projections' by Fiona Spuler and Jakob Wessel, who created a flexible and user-friendly toolkit for the bias correction of climate models; and a 'Wildfire emission explorer' by Giovanni Paolini and Ainhoa Murillo Iraola, who developed a graphical user interface (GUI) that simplifies the creation of wildfire emission plots allowing users to select data on demand.
Three projects referred to web development applications to help internal and external users optimise their operational environments. An 'ECMWF user dashboard' by Adarsh Narayan Pandey built on the user dashboard prototype developed initially during ESoWC 2021 through the integration of widgets from individual applications and web services. A 'CliMetLab web application' by Akshaj Verma concerns the implementation of a web-based graphical user interface (GUI) to make the configuration settings of the CliMetLab Python package easier. 'Bringing Magics weather maps to Matplotlib' by Alish Dipani improved the Python interface for Magics using the libraries Matplotlib and Cartopy. Magics is the geospatial visualisation library widely used by ECMWF and its Member and Co‑operating States.
Another project, 'CW4Floods', explored the hydrological citizen data CrowdWater and its application in flood forecasting. Mohit Anand, Emiliana Myftari, Beatrice Rinaldi and Enxhi Sulkja developed a Python package to facilitate the use of crowdsourced hydrological measurements for forecast validation.
Time for new challenges
Now is the time for ECMWF staff to think about challenges for Code for Earth 2023. These are topics relating to ECMWF's core activities, Copernicus and Destination Earth that can be addressed by our participants. They could include solutions for web services, developing innovative visualisation or workflows, managing data and machine learning applications. Challenges are overseen by mentors from ECMWF. In the past, mentors might promote implementations they were looking for, but they also had a chance to pursue innovative approaches in their area of work, test research ideas and learn new perspectives from external talents while enjoying a fun experience.
What's next?
Code for Earth will launch on 27 February with a list of software challenges proposed by ECMWF staff in line with core activity and Copernicus and Destination Earth workflows. The projects will publish their materials on the open-source hosting service GitHub. External data scientists and open-source programmers are invited to submit an innovative and feasible proposal by 7 April.
The announcement of the selected teams on 20 April will lead to the coding phase. During this four-month period, from 2 May to 30 August, ECMWF mentors and developers will team up to work closely on the proposed software challenges.
The Final Presentation Day in September will mark the official closure of the sixth edition of Code for Earth. All developer teams will be invited to showcase their results at an in-person event – for the first time in Bologna, Italy.
Beneficial partnerships
Code for Earth 2023 will be supported by the two Copernicus services operated by ECMWF, Destination Earth, and two cloud services: the European Weather Cloud and the Copernicus DIAS service WEkEO. These partnerships help to reinforce the innovation role of Code for Earth within the meteorological, climate and atmosphere community.
Code for Earth links:
Website: https://esowc.ecmwf.int
Twitter: https://twitter.com/esowc_ecmwf
GitHub: https://github.com/esowc
YouTube: https://www.youtube.com/channel/UCWLn6evyZ6tTktvUSTE1Xow