ECMWF recently launched the ECMWF Support Portal as the primary entry point for all users for all types of queries on ECMWF data, products, and services (https://support.ecmwf.int). The aim is to give easy access to relevant pieces of documentation, allowing users to quickly find relevant answers to their queries. Should the query not be resolved, the Portal also offers the option to create support tickets, when appropriate. Soon, it will no longer be possible to send an email to the ECMWF Service Desk, and all support requests will be created via the ECMWF Support Portal.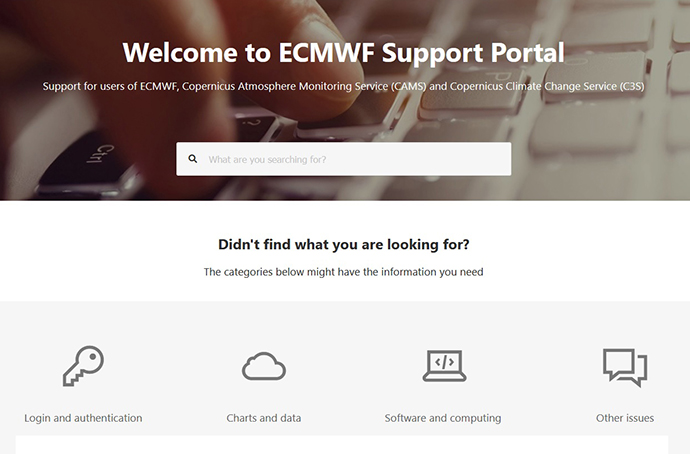 How it works
The Support Portal is a web interface with a landing page that searches documentation and presents relevant articles and information offering solutions on common user issues, ranging from "how to reset your password" and "what is a reanalysis?" to "how to write a MARS request using web API".
The landing page of the portal also allows users to select the topic of their issue by category:
'Login and authentication' – issues with logins to ECMWF systems and services
'Charts and data' – issues or questions relating to ECMWF charts and data, for example: downloading MARS data, using the Copernicus Climate Data Store, buying a licence for data, real-time dissemination issues, etc.
'Software and computing' – reporting any issues with a piece of software or the high-performance computing facility (HPCF) or getting access to ECMWF infrastructure services
'Other issues' – for anything else.
By selecting a category, commonly accessed articles are highlighted, and a more focused search can be done in the user documentation within the area of interest.
If users are unable to find the solution to their issue in user documentation, they can log in to the ECMWF system and create a support ticket (ECMWF registration is free of charge and open to all our users). This interface then either assigns the ticket to ECMWF Service Desk, who triage and assign it to the appropriate team, or in some cases the Support Portal can assign it to the relevant team directly.
For example, if a user has a question about Copernicus Atmosphere Monitoring Service (CAMS) or Copernicus Climate Change Service (C3S) data, they would choose the 'Charts and data' category. On the next page, by typing their question in the search box, they would be presented with links to relevant articles. If the articles presented do not provide the appropriate answer, the user can create a support ticket by clicking on 'Get our products'. When 'Get our products' is chosen, the support ticket is assigned directly to the Data Support team by the Support Portal. Whatever option is chosen by the users, the ticket can be manually assigned to the correct team if necessary.
As the use of the Support Portal increases, options will be refined to fit user needs and improve usability and efficacy. Several improvements are already planned before the end of the year, for example adding options during ticket creation to help the triage process and making it easier for users to give feedback on the Support Portal.
Serving all users
ECMWF has many users, including Member and Co-operating States, researchers and commercial users. They all have their own specific needs for support when it comes to using ECMWF data, charts, software and the HPCF, and they make use of many of the products and services ECMWF provides. Until recently each area of support had its own specific entry point for requesting support. This was confusing for users as they needed to know who to contact and how to go about it to get support.
The ECMWF Support Portal has introduced an initial entry point for all support request types. It aims to make support more effective and to reduce the need of manual intervention for common issues. This, we believe, will allow us to serve more users, providing high-quality support.