The fourth edition of ECMWF's Summer of Weather Code (ESoWC) came to a close with the Final ESoWC Day on 29 September 2021. The day-long online event showcased the outcomes of nine open-source projects, which nine developer teams worked on during a four-month coding period from May to August 2021. This year's projects were at the intersection of machine learning, web development, visualisation, data compression and open data exploration.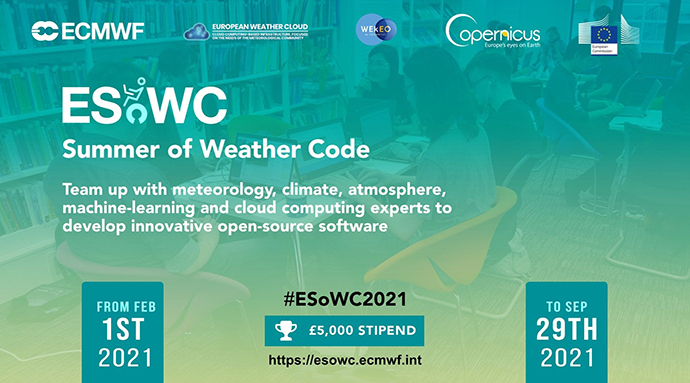 Overview
Four projects concerned advancing machine learning in Earth system science:
MaLePoM: Machine Learning for Pollution Monitoring. Nicolo Brunello, Vidur Mithal, Paolo Fornoni and Luca Rampini implemented a machine learning workflow to estimate NOx emissions with the help of suitable proxy data from anthropogenic activities, such as dynamic traffic data and others.
ML4Land: Using Earth observation data, climate reanalysis and machine learning to detect Earth's heating patterns. Avishree Khare and Het Shah developed a machine learning model that predicts land surface temperature based on ERA5 climate reanalysis variables on a regional scale.​
AQ Bias Correction. Antonio Perez Velsco and Mario Santa Cruz Lopez explored the use of machine learning in order to adjust biases between models and observations in air quality forecasts.
CliMetLab: Machine learning on weather and climate data. CliMetLab is an early-stage opensource Python package that aims to simplify meteorological and climate data preparation for machine learning projects. Ashwin Samudre helped to implement some important features that will help to enhance the functionalities of the package.
Three projects had a focus on web development and improving the visualisation of weather data:
ECMWF User Dashboard. Varun Bankar developed an interactive user dashboard, which allows ECMWF users to choose and load different services, e.g. ECMWF web charts, and customize their dashboard view.
BlenderNC enhancements. Tisham Dhar, Gichini Ngaruiya and Josue Martinez Moreno enhanced the BlenderNC software to support the loading of GRIB files. This is an important step forward to increase the use of BlenderNC in the meteorological community to make long-lasting visualisations with weather data.
Meeresvogel. Kathryn Schmitt developed additional functionalities for Google Earth to be able to better represent meteorological information, such as wind or mean sea level pressure. These light-weight features will be very useful for sailors, who need fast and easy access to such information.
Another two projects, concerning data compression and open data exploration, focused on atmospheric composition data:
Elefridge.jl: Compressing atmospheric data into its real information content. This project was already part of ESoWC 2020, and Milan Kloewer continued his work on exploring the potential of compressing atmospheric data while preserving real information to reduce storage and to facilitate data sharing. It provided evidence that the size of climate and weather forecast data archives can be reduced by one to two orders of magnitude without losing valuable information.
ADC Toolbox: Comparing Atmospheric Composition Datasets. Alba Vilanova Cortezon developed a Python-based toolbox which facilitates the comparison of satellite- and model-based data on atmospheric composition, such as data from the Copernicus Atmosphere Monitoring Service (CAMS) and from the GOME‑2 and IASI instruments onboard the polar-orbiting Metop-ABC satellites.
High-quality outcomes
At the core of the ECMWF Summer of Weather Code is the provision of innovative and open-source software solutions as well as attracting external expertise and new talents. ESoWC is known for the high standard of open-source solutions being developed during the coding phase. These high-quality outcomes are supported by a strong mentorship offered to the participating teams by ECMWF and Copernicus mentors. The collaborations often continue after the official end of an ESoWC edition.
ECMWF Summer of Weather Code was initiated in 2018. Since then, the programme has constantly grown through strategic partnerships with the two Copernicus services at ECMWF as well as two European cloud services: the European Weather Cloud and the Copernicus DIAS service WEkEO. These partnerships support ESoWC in its mission to drive innovation and opensource software developments in the meteorological and climate community.
ECMWF Summer of Weather Code will continue in 2022, and further information will be announced on the programme's website (https://esowc.ecmwf.int/), on Github (https://github.com/esowc) and on Twitter (https://twitter.com/esowc_ECMWF).