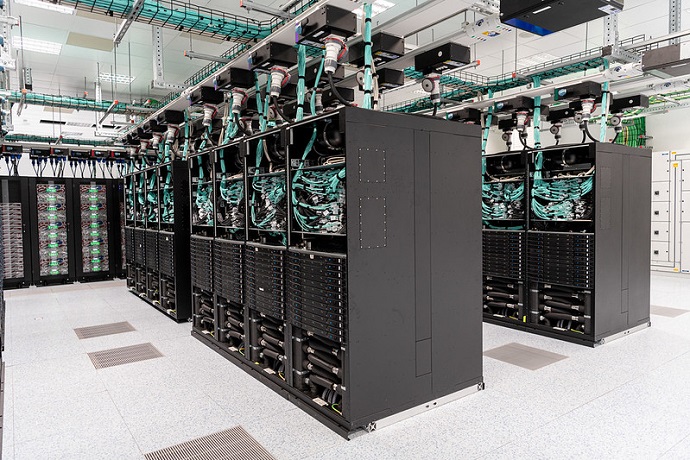 A view of part of ECMWF's high-performance computing facility in Bologna, Italy.
Researchers from any organisation in ECMWF Member States are invited to apply for computing resources for weather and climate research as part of the Special Project framework. For projects to start at the beginning of 2024, requests should be submitted before 30 June 2023.
ECMWF's new data centre in Bologna, built around an Atos high-performance computing facility, is specifically designed to support both time-critical forecasts and typical weather and climate research workflows.
Users of ECMWF systems also enjoy access to one of the largest meteorological archives in the world and get full user support. Later this year, these resources will be complemented by the European Weather Cloud service, delivering data access and cloud-based processing capabilities.
What are Special Projects?
Special Projects are defined as "experiments or investigations of a scientific or technical nature, undertaken by one or more Member States, likely to be of interest to the general scientific community".
They give researchers access to all services outlined above. Projects vary in size and can run for up to three years.
Twenty-five per cent of ECMWF's high-performance computing resources are allocated to Member States. Of these, up to 10% are reserved for Special Projects. More than 80 Special Projects are currently running at the Centre.
Recently resources have been allocated to proposals on topics such as Antarctic regional climate modelling, forecasting at sub-kilometre resolution and alternative schemes to accelerate seamless weather prediction.
All Special Project applications undergo a review process by the Centre and its Scientific Advisory Committee (SAC) and are ranked primarily by their scientific quality. Allocations will be awarded based on this ranking.
How to apply
Information on how to apply and a list of active and closed projects can be viewed on the ECMWF website.