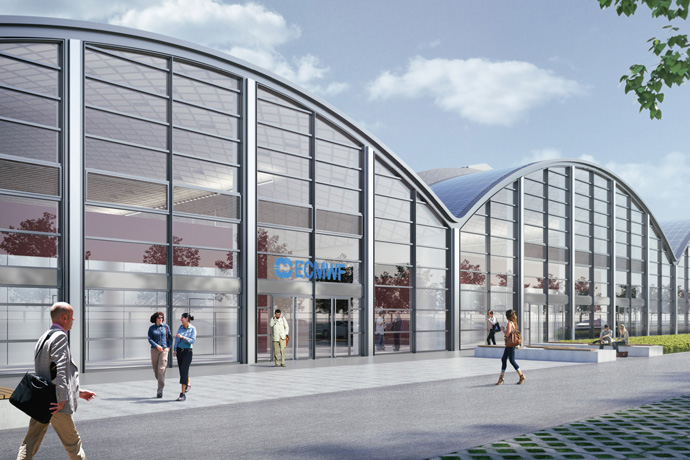 Artist's impression of ECMWF's next data centre at the Tecnopolo di Bologna. (Image: gmp von Gerkan, Marg & Partner)
The process of moving ECMWF's data centre to Bologna, Italy, entered a new phase with the release of an Invitation to Tender for ECMWF's next high-performance computing facility (HPCF) on 12 November 2018.
The new HPCF is scheduled to be installed at the Tecnopolo di Bologna by the first quarter of 2020 and will run in parallel with the existing HPCF for a few months. The contract period runs until 2024.
In addition, in the first quarter of 2019 ECMWF will be running several tenders relating to the infrastructure required to house and connect the HPCF and ensure the smooth migration of ECMWF's archiving system, as well as ongoing maintenance contracts.
Greater computing power and efficiency
ECMWF's Strategy to 2025 sets ambitious goals for global numerical weather prediction. Meeting them will require not just scientific advances but also much greater computational power and efficiency.
The decision, taken in June 2017, to locate ECMWF's data centre in Bologna is an important piece of the puzzle. It means that by late 2020 the Centre will have a tailor-made, state-of-the-art facility equipped with a new, powerful HPCF.
ECMWF already operates one of the biggest supercomputing facilities in Europe, comprising two Cray XC40 clusters. It also hosts the biggest meteorological archive in the world. Petabytes of data are added to it every week.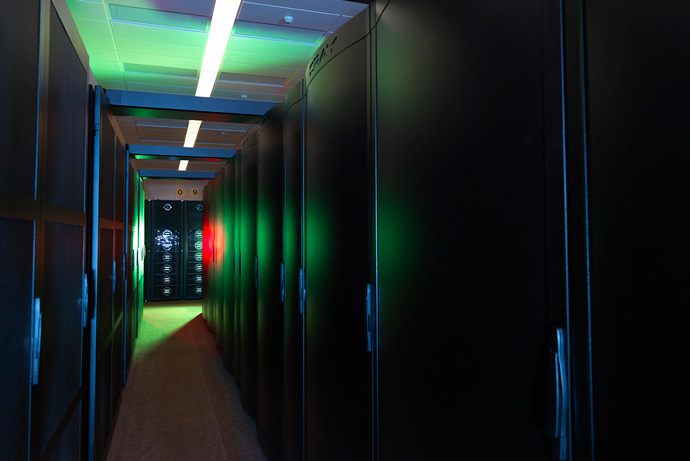 ECMWF runs a powerful high-performance computing facility and a large-scale data handling system at its premises in Reading, UK. (Photo: A. Brookes/ECMWF Copernicus)
Producing top-quality global medium-range weather forecasts requires such resources: the predictions are based on tens of millions of observations made every day around the globe, and on the accurate modelling of Earth system processes on scales from hundreds of metres to thousands of kilometres.
Speed is of the essence as forecast production and dissemination are time critical.
But today's computing needs are dwarfed by tomorrow's. If forecasts are to continue to get better, they will have to be run at much finer resolutions than today.
The Centre's Strategy specifies that ensemble forecasts should use a grid spacing of 5 km, down from 18 km today. Data assimilation methods will need to follow suit to provide accurate initial conditions at such scales. To make all this possible, the Centre's next HPCF will have to be much more powerful than the current one.
The increase in power will have to go hand in hand with efficiency gains resulting from ECMWF's Scalability Programme.
Building work set to start
Work to convert parts of the site of the former Manifattura Tabacchi (tobacco company) in Bologna to the new data centre is set to begin in December 2018.
This comes after the Italian Parliament ratified the hosting agreement in December 2017 and design details were finalised by May 2018.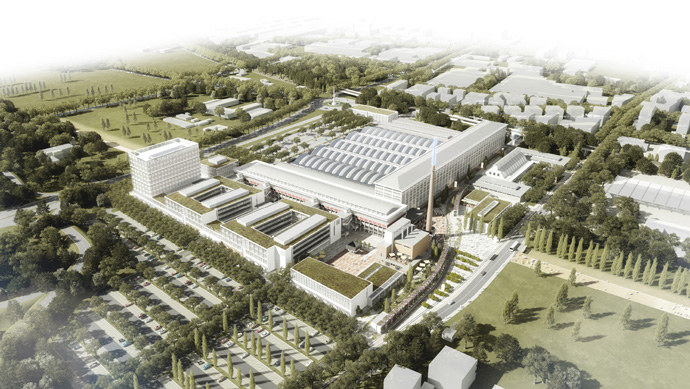 Aerial view of the future data centre site at the Tecnopolo di Bologna. (Image: gmp von Gerkan, Marg & Partner)
The building is expected to be ready for fitting out by September 2019. Recruitment for the 25 data centre posts is under way, and detailed plans for the migration of all computing and data handling operations to Bologna have been drawn up.
"The release of the Invitation to Tender for our next HPCF is another big step forward in this project," said Nyall Farrell, ECMWF's Director of Administration and head of the Bologna project.
"We are working closely with the Emilia-Romagna region, which is implementing the hosting agreement on behalf of the Italian Government, to make sure that everything is in place for the new data centre to be operational by late 2020."