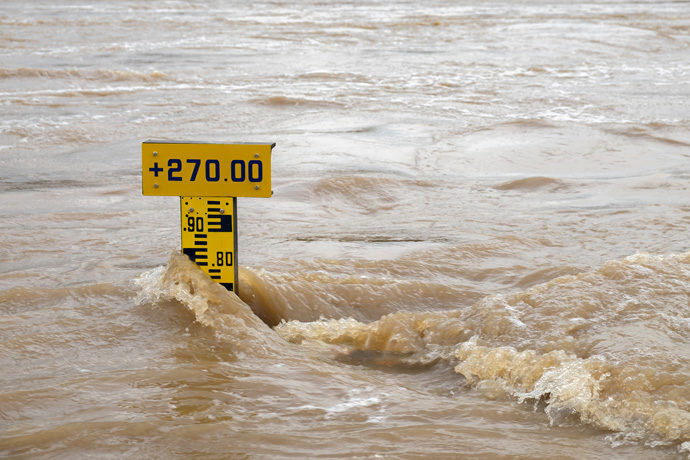 GloFAS provides global predictions of river discharge. (Photo: 12875116/iStock/Thinkstock)
The Global Flood Awareness System (GloFAS), for which ECMWF is the computational centre, was upgraded on 14 November 2018 to provide improved river flood forecasts across the world.
The upgrade to version 2.0 is the first after GloFAS became an operational service in April this year.
GloFAS is part of the EU-funded Copernicus Emergency Management Service (CEMS). The primary purpose of the system is to provide cross-border early flood guidance information.
This is intended to help national hydro-meteorological services, humanitarian agencies and commercial companies to improve their response to flood-related hazards.
New features
River discharge simulations rely on calculating the volume of water flowing in rivers as a result of rainfall and evaporation levels, soil properties, river catchment sizes, and many other variables.
Some of the parameters that play a role in these calculations need to be calibrated. The calibration determines what values they need to take to achieve the best possible simulations.
One of the main changes in GloFAS version 2.0 is a new calibration of hydrological routing to improve river discharge simulations worldwide.
The new calibration takes into account differences in hydrological processes in different regions.
Another improvement concerns the assessment of how unusual a predicted river discharge is. That assessment uses a reference climatology against which predicted levels are compared.
GloFAS version 2.0 uses an improved reference climatology, which is more consistent with real-time forecasts.
A third development is the publication of more than 20 years of discharge forecast reruns. This will enable users to carry out their own evaluation of the skill of GloFAS forecasts over a long period.
In addition, the GloFAS documentation has been expanded and updated with information on the modelling and different forecast configurations as well as other user information.
All changes have been implemented in the GloFAS 30-day and GloFAS Seasonal systems, which now share the version number v2.0.
Operational since April 2018
GloFAS has been producing flood forecasts for CEMS since 2011 in a semi-operational fashion.
Since April 2018, the system has been running in the ECMWF operational environment as a 24/7 service to produce ensemble forecasts of river discharge up to 30 days ahead (GloFAS 30-day) and newly developed seasonal hydrological outlooks on possible high/low flow anomalies up to 16 weeks ahead (GloFAS Seasonal).
This involves the continuous monitoring of GloFAS production, with a team of experts on call to guarantee the timely delivery of the forecasts.
GloFAS couples state-of-the-art weather forecasts with a hydrological model. ECMWF is actively involved in maintaining and developing the system in close co-operation with the European Commission's Joint Research Centre with the support of national authorities and research institutions, such as the University of Reading.
Further information
More details on the upgraded system are available in the General and Technical Information sections on the GloFAS website.