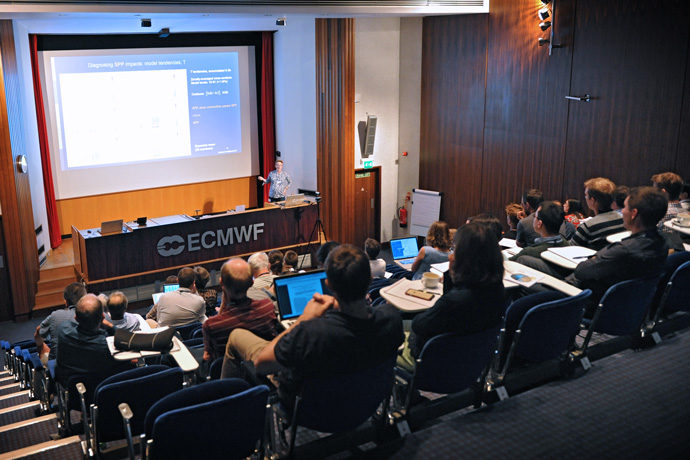 Fifty-seven scientists from across the world came together at ECMWF for the PDC18 physics–dynamics coupling workshop.
Finding better ways to couple small-scale physical processes and large-scale atmospheric dynamics in Earth system models could help to improve global weather forecasts, according to experts meeting at ECMWF from 10 to 12 July.
The third Physics–Dynamics Coupling workshop (PDC18) brought together more than 50 weather and climate scientists.
The members of the organising committee agree that this is an exciting time to be working in the field.
This is because several changes are under way to which physics–dynamics coupling must respond: the resolution of global weather models is increasing; computer architectures are changing; and Earth system models are becoming increasingly complex.
"We are getting to a point where the physics and the dynamics are relatively highly optimised but the coupling is not necessarily as good as it could be," says Sylvie Malardel, who recently moved from ECMWF to Météo-France.
Sylvie points out that traditionally atmospheric dynamics has been worked on separately from processes that cannot be resolved by the model, such as convection or turbulence.
"The idea behind the workshop is to bring the physics and dynamics communities together to ensure we get the coupling right."
Nigel Wood, who leads atmospheric dynamics research at the UK Met Office, agrees that coupling plays an important role in forecast quality.
"My starting question is: how do we make weather forecasts better? It's getting harder and harder, but I think there is scope to make more gains if we improve the physics–dynamics coupling."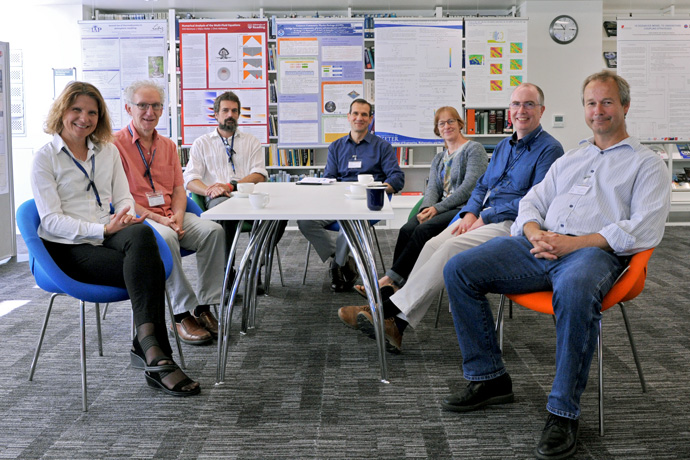 Members of the PDC18 organising committee (left to right): Christiane Jablonowski (University of Michigan); Philip Rasch (Pacific Northwest National Laboratory – PNNL), standing in for Hui Wan (PNNL); Markus Gross (Center for Scientific Research and Higher Education at Ensenada – CICESE); Michail Diamantakis (ECMWF); Sylvie Malardel (Météo-France); Nigel Wood (UK Met Office); Nils Wedi (ECMWF).
Avenues of progress
Christiane Jablonowski from the University of Michigan says the workshop has highlighted that progress in two areas is under way.
"The first is the question of how to do the coupling numerically from a pretty technical viewpoint. The second is the new idea that we should incorporate more and more physical processes into the dynamics."
ECMWF scientist Michail Diamantakis sees exciting developments in convection–dynamics coupling.
"Some of the speakers presented some completely new ideas based on mathematically rigorous procedures. This is something to explore in the longer term. Alternative ideas that could be incorporated into operations more easily were also presented."
ECMWF scientist Nils Wedi says part of the reason why physics–dynamics coupling is very topical is that several new dynamical cores have reached maturity.
"We now face the question of how to couple the physics. This is prompting us to look afresh at the assumptions we are currently making."
He adds that getting the coupling between the physics and dynamics of the atmosphere right is not enough. "There is a strong drive to also strengthen the coupling with other Earth system components, such as the ocean, the land surface and atmospheric composition."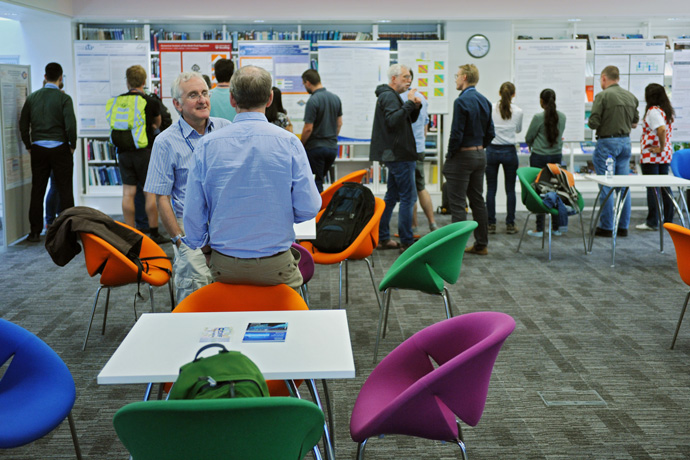 A poster session provided opportunities for informal exchanges on the latest developments in physics–dynamics coupling.
Compromises
Philip Rasch from the US Pacific Northwest National Laboratory (PNNL) is convinced that there is scope to improve current methods.
"I don't think we have made enough effort to assess the consequences of the way we do the coupling," he says.
"Compromises made because of computational limitations mean that there are probably significant errors in the methods we are currently using, which is a primary motivation for this kind of meeting."
Markus Gross from the Center for Scientific Research and Higher Education at Ensenada (CICESE) in Mexico points out that all areas of physics and dynamics "try to solve very complex non-linear problems".
"Limited computational resources force us to simplify the problems and the solution procedures. It then becomes very difficult to assess what the consequences of these simplifications are."
Nigel Wood says there is some tension between the drive towards greater physics–dynamics integration on the one hand and the move towards greater parallelisation in high-performance computing on the other.
"There is a conflict with what future hardware is going to give us: it's going to be designed for a greater number of separate tasks that we can give to the processors so that they can work in parallel.
"How we can square that circle I don't know, but this is a great forum to air those ideas."
More information
For more information on PDC18 and to view the presentations and recordings of the talks, please visit the workshop page.
Information on two previous physics–dynamics coupling workshops in 2014 and 2016, including presentations, is available on the workshop series page.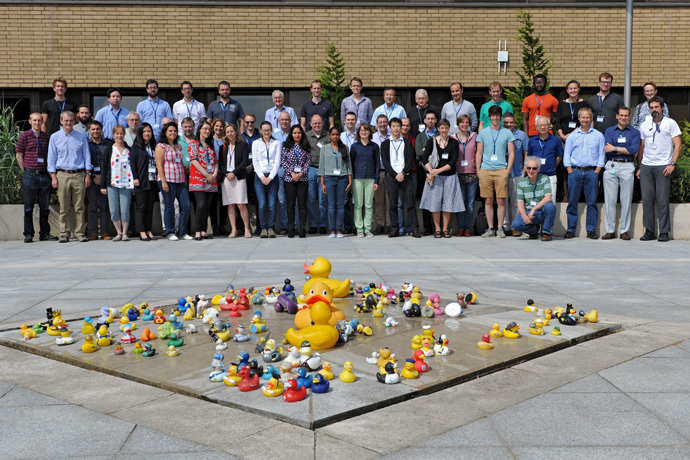 The number of workshop participants has grown compared to two previous PDC meetings held in 2014 and 2016 (not counting the ducks).