More than 90 data enthusiasts will converge on the Centre on 9 and 10 June 2018 for a hackathon weekend to develop innovative climate data applications. They will be able to test the capabilities of the Climate Data Store (CDS), a brand new facility that provides free and open access to climate data and information.
The CDS has been developed by the EU-funded Copernicus Climate Change Service (C3S) implemented by ECMWF. Its public release is planned for June.
Participants in the #OpenDataHack2018 will also be able to get creative with data from the EU-funded Copernicus Atmosphere Monitoring Service (CAMS) implemented by ECMWF.
The goal of the hackathon is to explore the potential of open climate data.
"Large volumes and a wide range of climate data will be available for participants to use," says Anabelle Guillory, one of the organisers.
"There is no shortage of sectors which can benefit from the information and the tools provided by C3S and CAMS," she says, listing the energy sector, agriculture, water management, health and retail as examples.
Some ideas for participants to explore, ranging from an 'air quality early warning algorithm' to 'photorealistic historic weather', have already been submitted to the #OpenDataHack2018 GitHub platform.
CDS Catalogue and Toolbox
The Climate Data Store makes authoritative, quality-assured climate information from many sources openly available through a unified web interface.
It does so through a Catalogue and a Toolbox.
The Catalogue serves as a portal to data comprising, among other things, observations, historical climate data records, essential climate variable datasets, global and regional climate reanalyses, global and regional climate projections, and seasonal forecasts.
The Toolbox is a set of user-friendly software to help people with different levels of expertise to make the most of the data.
It can for example be used to combine data or to perform statistical, interpolation or regridding operations.
Users can also create interactive web applications tailored to their needs using CDS datasets.
"The CDS is designed to cater for users ranging from developers to companies, public authorities and interested citizens," says Anabelle.
"The hackathon will be an excellent testing ground to see how the CDS can help people to turn their ideas into reality."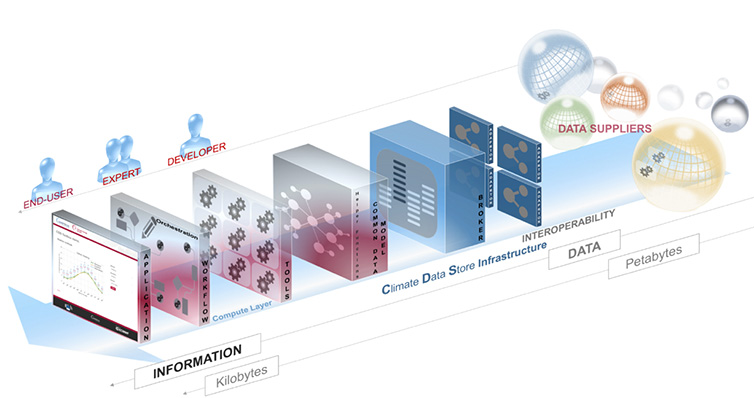 The CDS is designed to meet the needs of different users, including developers, expert users and a wide range of other users, who can interact with the CDS at different levels.