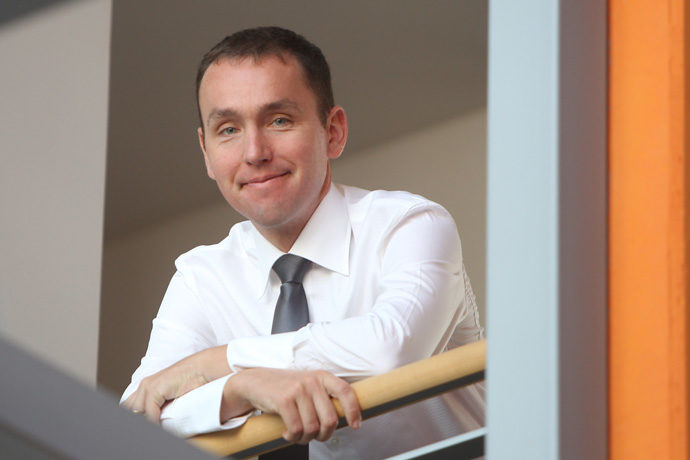 Photo copyright: Sznapka Petr
Dr Martin Palkovič has been appointed to become ECMWF's next Director of Computing from 1 October 2018. He succeeds Prof. Adrian Wander, who will step down after a transition period to ensure a seamless handover.
ECMWF's Council approved the recommendation of the Centre's Selection Board on 13 June.
Dr Palkovič is currently the Vice President of Engineering at Codasip Ltd in Brno, Czech Republic, where is he responsible for the management of R&D as well as collaboration with academic communities and national and EU representatives.
Previously he was Managing Director of IT4Innovations, where he established and managed the Czech National Supercomputing Centre and was responsible for building and operating the national HPC e-infrastructure and related R&D activities.
A Slovakian national, Dr Palkovič holds a PhD in electrical engineering from the Technische Universiteit Eindhoven in the Netherlands and is the author or co-author of more than 50 international publications in the field of ICT.
He has served on several advisory boards and is currently a member of the EU Horizon 2020 Future and Emerging Technologies Advisory Group. This is valuable experience to bring to ECMWF, which works closely with the EU on research projects and many aspects of the Centre's Scalability Programme and is implementing two of the EU-funded Copernicus services.
Dr Palkovič said: "To be joining ECMWF as the Centre begins work on the new data centre in Bologna is an extremely exciting and inspiring prospect. This is a unique opportunity to help create a facility that will support the requirements of weather services across Europe and deliver the computational resources demanded by ECMWF's strategic goals."
ECMWF Director-General Florence Rabier said: "Dr Palkovič will make an excellent addition to the Centre's senior management team. Over the past four years, Prof. Wander has provided strong leadership for the Computing Department, helping to define the Centre's long-term Strategy and preparing the ground for our new data centre and supercomputers. Dr Palkovič's appointment will ensure that ECMWF's computing capability continues to support some of the most critical scientific advances of our time."
After Dr Palkovič takes up his new post in Reading, he will continue to contribute remotely to an ongoing H2020 project, TETRAMAX, at Brno University of Technology, Faculty of Information Technology.