ECMWF's OpenIFS model is being used in a workshop on ensemble forecasts at France's École Nationale de la Météorologie (ENM) in Toulouse for the second year running after last year's event proved a resounding success.
The 25 postgraduate students taking part in the event from 16 to 19 May are gaining hands-on experience with a leading global numerical weather prediction system.
This year they include 10 participants from Germany's national meteorological service (DWD) on a one-month exchange visit.
"We are delighted to have been invited back to Toulouse after last year's very positive experience," says Filip Váňa, who is part of the OpenIFS team at ECMWF.
"The students are working through the exercises giving them plenty of opportunities to work with and understand probabilistic weather forecasts. The aim is to familiarise them with the use of ensembles in real-world forecasting."
The workshop has been organised jointly by ENM and ECMWF.
Historically ECMWF's Integrated Forecasting System (IFS) is closely connected to France: it has been and continues to be developed in close collaboration with scientists at the French national meteorological service, Météo-France, which runs the ENM.

The training event is taking place at France's École Nationale de la Météorologie (ENM) in Toulouse for the second year running. (Photo: Sébastien Laflorencie)
OpenIFS provides a supported, easy-to-use version of the IFS model under licence to national meteorological and hydrological services, research institutes and universities.
It is currently used by over 40 licensed institutes in 20 countries worldwide, for both research and education, in fields ranging from weather prediction to climate modelling.
Once a year, new, potential and established users of OpenIFS come together in user meetings held at institutions in ECMWF's Member States. These meetings are usually centred on a theme.
"The next user meeting will take place in Trieste, Italy, from 5 to 9 June 2017 and will focus on 'Atmospheric variability: seasonal predictability and teleconnections'," says Glenn Carver, OpenIFS coordinator. "Scientific outreach is an important part of OpenIFS activities."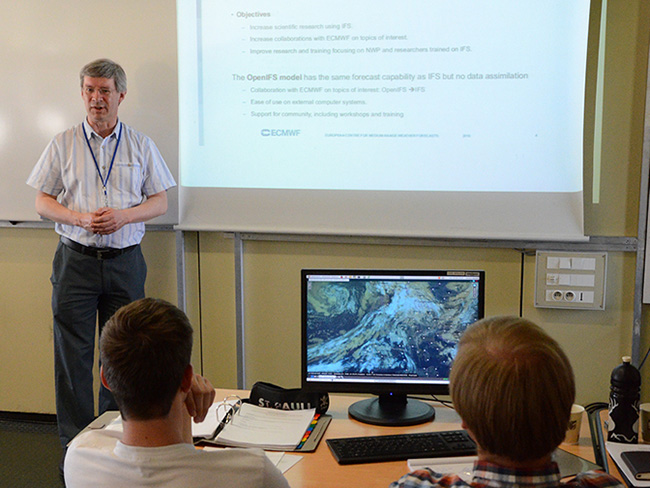 At the start of the workshop, Glenn Carver gave an overview of the OpenIFS programme. (Photo: Sébastien Laflorencie)
Top photo: Sébastien Laflorencie