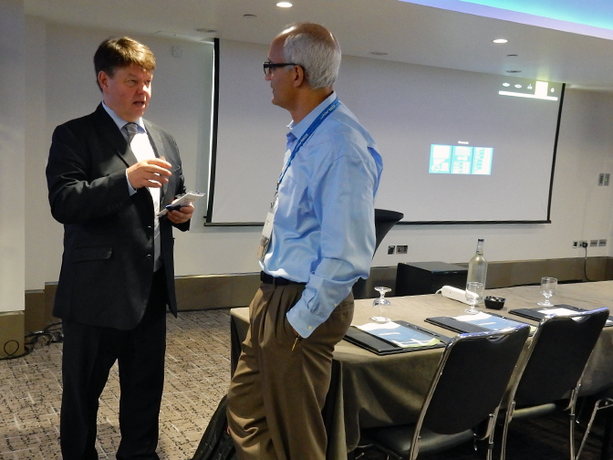 Supercomputer efficiency was high on the agenda when ECMWF hosted this year's Cray User Group (CUG) conference in London from 8 to 12 May 2016. With 230 people registered to attend over the course of the week, the conference was an opportunity for ECMWF to meet other users of Cray computers and Cray representatives.
The group aims to facilitate collaboration and information exchange in the high-performance computing (HPC) community. This is needed more than ever to tackle the challenge of keeping supercomputers energy-efficient as they contend with more data.
In her opening address to the conference delegates, ECMWF Director-General Florence Rabier called for the meteorological and computing industries to work closely together to improve forecasts and technology.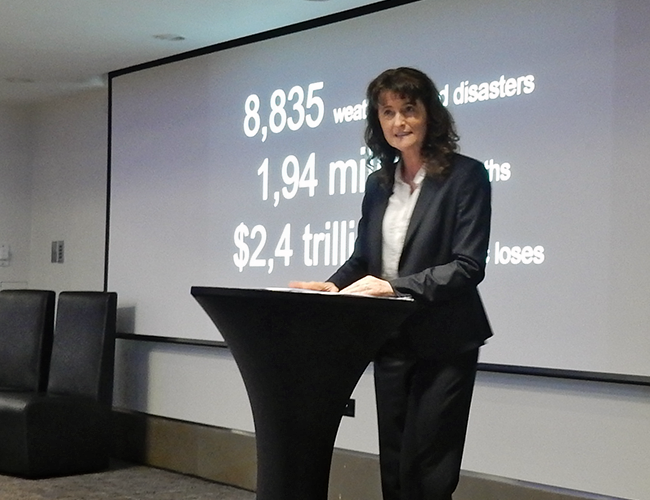 ECMWF Director-General Florence Rabier.
ECMWF runs one of the largest supercomputer facilities in Europe. It is a leading proponent of 'scalability', a series of initiatives designed to improve supercomputer efficiency and energy usage.
Scalability was the key topic at this year's conference. Through presentations, tutorials and technical sessions delegates shared ideas on how best to use high-performance computing systems and discussed the importance of improving scalability in the area of numerical weather prediction.
Florence Rabier said:
Improvements in predicting the weather from days to months and in understanding our climate call for ever more complex calculations. Supercomputer technology has played a key role in the great advances we've made over the past four decades.

But this same technology could ironically impair further advances unless we start tackling inefficiencies in data processing and energy use.

The high interest in the presentations and discussions during the conference is encouraging and confirms the importance of the topic of scalability. The conference has been an excellent opportunity to raise the profile of ECMWF's Scalability Programme and has opened up the prospect of new collaborations in this area.

If we can get this right, we won't just be able to predict the weather more accurately further in advance and improve the resilience of our economies, we'll also do it at a sustainable cost.
The president and CEO of Cray, Peter Ungaro, said:
The Cray User Group is a vibrant, user-managed community and its annual conference provides a unique forum for discussing and sharing solutions to some of the most challenging problems that are at the intersection of advanced technology, supercomputing and big data analytics.

We appreciate the support of ECMWF in hosting this year's excellent conference, and we look forward to working closely with ECMWF and our customers around the globe to meet the scalability challenges of tomorrow.

ECMWF CUG2016 Press Release

ECMWF Scalability Infographic
Read more about ECMWF's Scalability Programme
Read more about the Cray User Group
Main image: WMO Secretary-General Petteri Taalas (left) and the president and CEO of Cray, Peter Ungaro, at the CUG 2016.