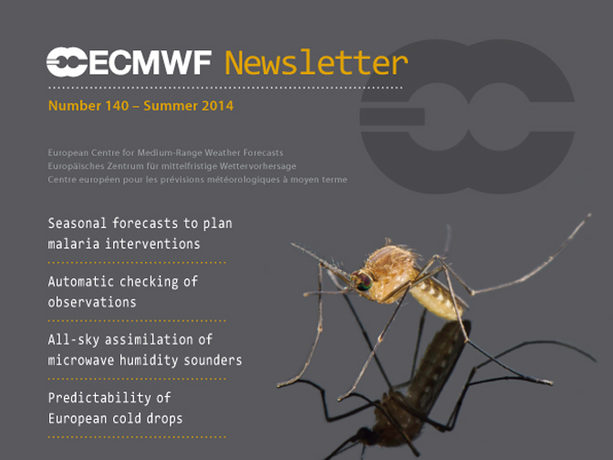 The Summer 2014 issue of the ECMWF Newsletter is now available. As well as news about ECMWF staff and events, it features articles about new developments and the use that can be made of ECMWF products.
Weather forecasts could extend the advance warning of malaria outbreaks provided by climate monitoring and supply warnings on a regional or even continental scale. The Newsletter reports on ECMWF's involvement in a project to integrate data from climate modelling and disease forecasting systems to predict the likelihood of a malaria epidemic.
Contents include:
Seasonal forecasts to plan malaria interventions
Automatic checking of observations
All-sky assimilation of microwave humidity sounders
Predictability of cold drops based on ECMWF's forecasts over Europe
SAPP: a new scalable acquisition and pre-processing system
New user interface for Metview
The ECMWF Newsletter is published quarterly.
Latest issue
Previous issues are available on the Media Resources page.