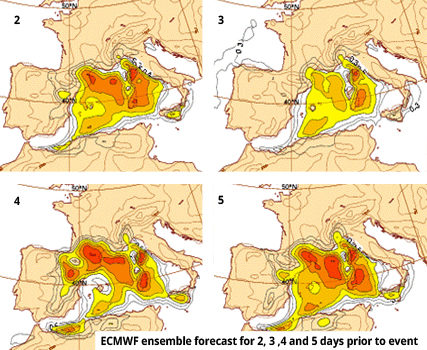 The Italian Ambassador in London, His Excellency Pasquale Terracciano, and the Scientific attaché, Prof. Roberto di Lauro, were at ECMWF on 6 June 2014. This was the first visit by an Italian Ambassador since ECMWF was established in 1975.
The Director-General, Prof. Alan Thorpe, highlighted the important role of Italy as one of ECMWF's Member States in providing the resources needed to develop research and operational programmes.
ECMWF forecasts for a number of weather events that had substantial societal and economic impact on Italy were shown to the guests. The important role of ECMWF in providing reliable forecasts of severe weather across the medium range was highlighted with the example of ECMWF forecasts capturing the severity of the weather situation linked to a very intense cyclone, named 'Cleopatra' in Italy, that affected the western Mediterranean. The heavy precipitation associated with the cyclone led to flooding in Sardinia in November 2013. The ECMWF ensemble forecast identified Sardinia as an area where extreme precipitation was possible up to 5 days prior to the event (see image).
A tour of the Centre's computing facilities gave the Ambassador and the Scientific attaché an opportunity to appreciate the complexity of the technical infrastructure needed to issue forecasts and to manage the world's largest meteorological data centre. They expressed their thanks for having had the possibility to visit such a successful European institution.
| | | |
| --- | --- | --- |
| | | Director-General Alan Thorpe welcomes His Excellency Pasquale Terracciano to the Centre |
Key facts and figures
Italy was one of the founder Member States of ECMWF in 1975. It has always been one of the top contributors, with its contribution today standing at about 12% of the total budget. Today, 22 Italian nationals work at ECMWF (of a total workforce of about 270).
Italy is represented in the ECMWF Council and its Committees by representatives of the Ministry of Education, University and Research (MIUR), the Ministry of Defense and the Ministry of Economy and Finance.
Like all ECMWF Member States, Italy receives global weather forecasts and related products, dedicated supercomputer time, access to the meteorological data archive, boundary conditions for running regional models, and access to training for researchers, students, forecasters and computer technicians.
ECMWF collaborates with researchers in Italy from national and regional meteorological services, universities, Institutes of the National Council of Research (CNR) and international research institutes hosted in Italy.