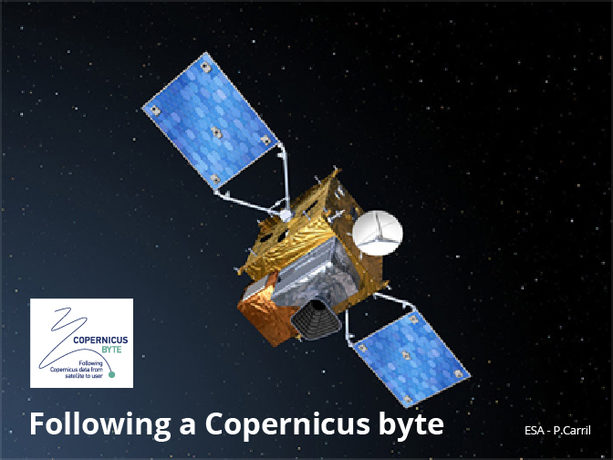 The European Union Council's Space Working Party visited EUMETSAT on June 17 for a series of presentations demonstrating the organisation's central role in bringing data to Copernicus services and their end users. EUMETSAT invited representatives from the precursor Copernicus marine and atmosphere services (MyOcean2 and Monitoring Atmospheric Composition and Climate (MACC-II)) to give presentations detailing their interactions with users. ECMWF was represented by the Centre's Director General, Professor Alan Thorpe, as well MACC's leading team, Vincent Henri Peuch and Richard Engelen.
The Space Working Party is made of one expert/representative from each country in the EU and its main role is to examine legislative proposals, carry out studies and undertake any required work to prepare the ground for the European Council decisions on Space matters. This event gave them an opportunity to "follow a Copernicus byte from the satellite to the end-user". The morning activities allowed the 30 delegates to hear about the operations of the control centre, getting data from EUMETSAT satellites and Sentinel-3, as well as third-party data services, the archiving of data, how they are disseminated as well as the support to users provided by the Helpdesk.
The afternoon was used to present the Copernicus Marine Service and the Copernicus Atmosphere Service. MACC's team presented the precursor Copernicus Atmosphere Service, as currently covered by the MACC-II project, starting with a showing of the MACC-II video followed by a presentation where MACC-II project manager Richard Engelen illustrated the various steps that transform observations into user services through the use of data assimilation and forecasting at global and regional scales. His presentation was followed with a WebEx intervention by one of many MACC-II users, Augustin Colette from INERIS in France, who highlighted how MACC-II products help advise the French government on air quality issues. The session concluded with Vincent-Henri Peuch (MACC-II project coordinator) answering various questions from the audience addressing some of the other products that MACC-II delivers as well as an outlook on the near-future.
Members of the Space Working Party were keen to acknowledge it had been a very informative day, demonstrating the actual links between satellite observations and user services and making Copernicus very concrete now.
| | | |
| --- | --- | --- |
| | | MACC-II Project manager Richard Engelen presenting the MACC-II project. |
| | | The delegations from ECMWF, EUMETSAT, and Mercator together with Apostolia Karamali (Greek Adviser for Research and Space) and Roland Zinzius (Deputy Head of Unit DG Enterprise/Copernicus Infrastructures), holding the Copernicus byte image. |