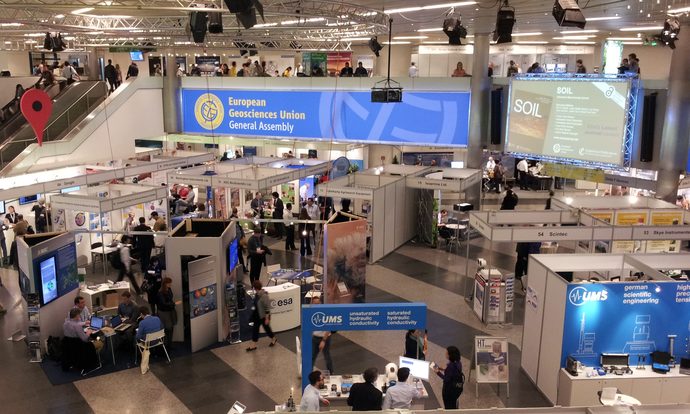 Vienna was recently the host of yet another highly successful European Geophysical Union General Assembly from 28 April to 2 May 2014.
This prominent annual event is a collaborative enterprise that brings together geoscientists from all over the world and covers all disciplines of the Earth, Planetary and Space Sciences. ECMWF was very present, from convening sessions to presenting on a broad spectrum of our work.
The event gathered 12,437 scientists from 106 countries with 14,895 presentations (4,829 oral presentations and 9,583 posters distributed among 568 scientific sessions, 126 Poster Summaries & Discussions and 483 PICO (Presenting Interactive COntent) presentations, together with 245 side events and meetings.
Those many presentations and events included opportunities for our staff to present on using reduced precision in ECMWF's OpenIFS model during a well-attended session on adapting geophysical models to mixed architecture HPC architectures; discussions on Big Data throughout this session highlighted the timeliness of our Scalability project. A study on tropical cyclone forecast skill by CMA showed that ECMWF forecasts are mostly ranking on top in model intercomparison studies.
All in all a very good opportunity for all in this field to share views, exchange good practice and develop collaborative work.