The Vendée Globe is a non-stop, unassisted, single-handed round-the-world yacht race starting from Les Sables-d'Olonne in France. Described as the Holy Grail for solo sailors, it has taken place every four years since 1992. Weather forecasting plays an important role, and in 2020/21 ECMWF forecasts were made available to the sailors by different forecast providers. Here Giancarlo Pedote, who came in eighth out of a field of 33 who started the race, describes the importance of accurate weather forecasts.
What made you want to take part in the Vendée Globe? ​
I have taken part in other regattas, but not around the world. This is the most interesting regatta, however, what you could call the 'Everest' of the seas.
How come you asked for ECMWF data?
ECMWF data is of course very good and very interesting. I looked at the different forecasts produced every day and checked how the weather evolved in 3-hour intervals. I primarily consulted wind and sea-state data but also looked at weather charts.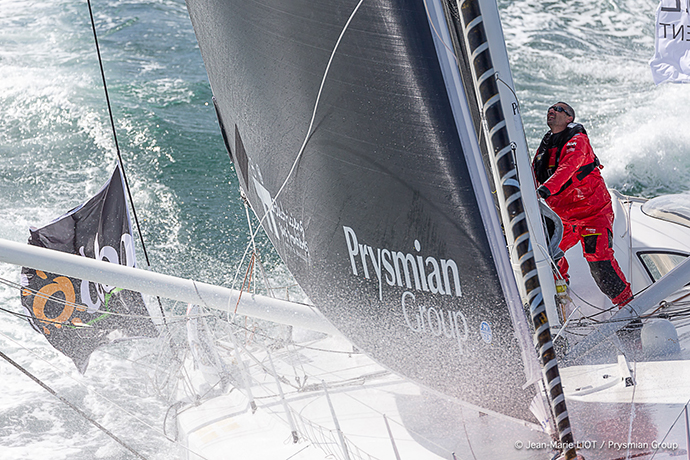 What did you use the data for?
I used them to assess the general situation: to find the best passage and to be fast and stay safe. The forecast was sometimes good and sometimes reality was a bit different: wind speed, wind direction, the arrival of high pressure. It would be good to have hourly forecasts and information on the real-time situation. The regatta directorate also looked at the forecast and told us if the zone of safe sailing was changing, for example if a big depression was coming.
How important was weather information to you?
The course sailors took was key to the race. Therefore, the precision of the data was very important, as well as your interpretation of it.
What would improve the forecast information you used?
Information on local showers would be good to have. Big clouds that produce more than 30 knots medium wind speed can cause trouble. In showers, wind speeds could rise to 35 knots. This can bring risks. More precise information enabling you to stay away from high pressure zones would also be good.
Will you take part in another global race?
I hope to take part in another Vendée Globe event.