Nine variables in the Copernicus ERA5 global weather and climate reanalysis dataset are now part of the Google Earth Engine's public data catalogue. Earth Engine is a cloud‐based data analysis platform widely used by Earth observation practitioners, scientists and researchers. Making a selection of ERA5 data available in Earth Engine makes this powerful reanalysis dataset more easily accessible to the Earth observation community.
Data selection
The EU‐funded Copernicus Climate Change Service (C3S) implemented by ECMWF makes petabytes of climate data openly available. The most popular C3S dataset is ERA5, which provides a record of the global weather and climate since 1979 using over 200 variables at a grid spacing of 31 km and at hourly intervals. ERA5 variables are of interest not only to meteorologists and climatologists, but also for land monitoring applications, flood forecasting and climate change impact assessments at country level. Air temperature, wind information and precipitation are some of the variables that are often of interest to environmental monitoring applications and assessments. Although all ERA5 data are freely available via the C3S Climate Data Store, the dataset has not been fully exploited by the Earth observation community as until recently it was not part of Earth Engine's public data catalogue.
The following nine variables have been made available in Earth Engine: minimum, mean and maximum 2‐metre air temperature, total precipitation, 2‐metre dewpoint temperature, surface pressure, mean sea‐level pressure and 10‐metre u‐ and v‐components of wind. Three Earth Engine image collections with different temporal aggregations (hourly, daily and monthly) have been made available, enabling efficient data retrievals for different applications. The selection of variables is based on the results of a survey among the Earth Engine community. The hourly ERA5 reanalysis data for all nine variables have a total volume of around 7 terabytes.
Interoperability of data systems
The workflow consists of six major steps:
Downloading hourly data as daily files or monthly aggregates in NetCDF format from the Climate Data Store
Aggregating hourly files to daily means or sums (total precipitation)
Converting NetCDF data to GeoTiff
Uploading hourly, daily and monthly GeoTiff files to the Google Cloud Platform (GCP)
Creating image manifests (JSON‐ based files) describing the metadata and band name of the resulting Earth Engine asset
Ingesting data files uploaded to GCP as assets into Earth Engine with the help of the manifest files.
The project to make the data available took around nine months. Moving the data from the Climate Data Store to the Google Cloud Platform turned out to be time and resource intensive, and the ingested Earth Engine assets are not modifiable. The example of making C3S data available via the Google Earth Engine shows that we have to work towards the interoperability of different data systems to make data exchange and sharing easier and to make open data more easily accessible to everyone.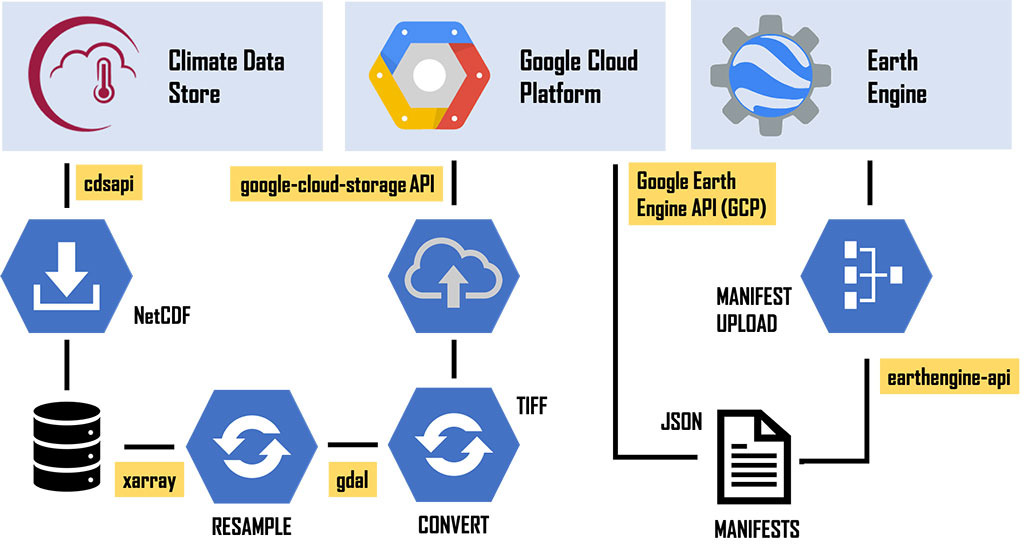 Use by the World Food Programme
Earth Engine users welcomed the availability of ERA5 data for their applications. One Earth Engine user who uses ERA5 data is the World Food Programme (WFP). Part of the daily work of WFP's Geospatial Support Unit of the Emergency Division is to monitor 80 countries where it has operations. This requires the use of large volumes of Earth observation data related to the onset of emergencies to provide life‐saving humanitarian aid. Weather‐ related disasters are one of the priorities of the WFP's Emergency Division because they often lead to humanitarian crises and directly affect WFP's operations on the ground. The Geographic Information System unit of WFP uses reanalysis data from ECMWF in Earth Engine to run daily analytics of weather‐ and climate‐ related events.
For more information on the Google Earth Engine and access to selected ERA5 data, visit: https://earthengine.google.com/.
For more information on ERA5 and full access to ERA5 data via the Climate Data Store, visit: https://climate.copernicus.eu/climate-reanalysis.