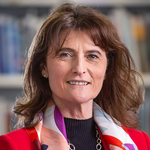 Florence Rabier, ECMWF Director-General
For me, working at ECMWF is a dream come true. On International Women's Day, I want to share with you the excitement and pride I feel about what we do, and the exceptional and diverse staff who make it possible.
Why is working at ECMWF a dream come true?
It might not be everybody's dream, but for me it is! Let me tell you more about the reasons why working at ECMWF is ideal for me.
First of all, most of what we do involves maths and physics, which were two of my favourite topics during my studies. Also, growing up by the Atlantic coast, I have been fascinated from childhood with waves and rapidly changing weather, which was a clear motivation for me to study meteorology. Then, ECMWF has a clear purpose which gives me a real motivation in my work. Finally, it is a privilege to work in such a diverse international environment, exchanging ideas with the talented people we have working here.
We recently celebrated the amazing women we have at ECMWF, but I pay tribute to all our staff.
Cutting edge science
Starting with the intellectual challenge at work, I think it is fair to say that ECMWF develops cutting edge science in meteorology, environmental monitoring and computing applications. This is of course very motivating!
My own area of work has mainly been in data assimilation and the use of satellite data: how to combine observations with a numerical model of the Earth system to document what the state of the system is now, to then predict what it will be in the future. This requires expertise in maths and statistics, and also in physics: to understand the physics of the measurements and the functioning of the numerical model. The goal is to extract the maximum information possible from meteorological observations to get the most accurate weather forecasts. This requires a real understanding of the accuracy of the observations and the mastering of advanced methods to perform an optimal combination of the various sources of observations. And of course, it involves some coding and numerical experimentation.
Everything we do at ECMWF is collaborative and improving the use of observations goes hand in hand with improving the model, with improving the numerical codes, and with testing the results of numerical experimentation with proper evaluation and diagnostics of the results. So, any change being proposed by scientists has to be seen in a broader context of a set of changes regularly applied to the Integrated Forecasting System, which is typically upgraded once a year.
This means that you do not work in silos, but in collaboration with many other scientists and analysts throughout the organisation. And this is probably one of the most motivating aspects. Of course, now, as Director-General, I do not implement scientific changes myself, but I keep track of the developments and follow the progress of both scientific advances and performance of the system.
Making a difference
Aside from the intellectual satisfaction derived from working on a state-of-the-art system, what provides a real motivation is knowing that the science we develop has a clear purpose: delivering useful data for society.
ECMWF forecast data are provided to our Member and Co-operating States' national meteorological services and are used (together with their own forecasts) to help protect life and property. Knowing where and when a storm will hit or how intense a heatwave will be days and weeks in advance is of prime importance for society to be prepared.
Our data are also distributed more broadly, in particular to other meteorological services around the world and, in addition, they are used to provide services for the benefit of the economy. Many sectors are highly dependent on meteorology: agriculture, transport, construction, tourism, energy, and in particular renewable energy, to name a few.
Also, documenting climate change, air pollution, floods, fire risks, in the context of our partnership with the European Union for the Copernicus Programme is highly motivating.
Any improvement made in our outputs has a direct translation in terms of societal benefit. This provides extra motivation to do one's best when you know that so much is at stake!
The motivation described above can also be found in national meteorological services, and indeed I personally thoroughly enjoyed my experience at Météo-France when I worked there, so it is not unique to ECMWF. But ECMWF provides a special environment.
Diversity
What ECMWF brings on top of all this is diversity.
Working for an intergovernmental organisation is fascinating. Staff come from more than 30 countries, with different backgrounds, experiences, and cultures. There is definitely a richness in collaborating with such a broad variety of people.
Recently we have extended our geographical footprint by creating new sites in Bologna, Italy and Bonn, Germany, on top of our headquarters in Reading, UK. There were some challenges, in particular as this happened in the middle of the COVID-19 pandemic, but this also now creates a rich experience.
More to be done
One aspect which I regret though is that ECMWF is still not where it should be in terms of more general diversity, in particular gender diversity. While we have many exceptional female staff, despite our best intentions, the percentage of women, in particular in science and even more so in computing, is too low.
Being an international organisation requiring people to move to join us, usually through expatriation, might have been detrimental to attracting some bright people, and in particular women. With our three sites and a more flexible working policy, I sincerely hope that this situation will improve. There would be much to be gained in increasing further the diversity in that aspect.
In conclusion, I would say that I am certainly enjoying every minute of my time at ECMWF as a scientist, then as Director and now as Director-General.
On International Women's Day, I would particularly encourage women to think about joining us. Do not hesitate, we need your talent to succeed in this collective endeavour!
Banner credit: melitas/iStock/Getty Images Plus