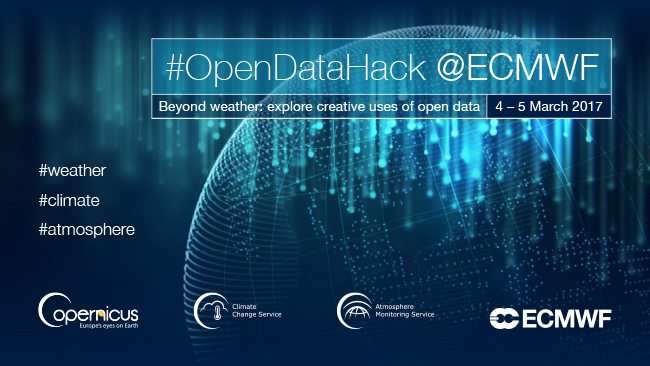 Over 70 developers, data wranglers, scientists and data enthusiasts came to #OpenDataHack @ECMWF on 4 and 5 March 2017 to explore creative uses of open weather and climate data.
The event was part of ECMWF's Open Data Week and aimed to raise awareness of freely available data from ECMWF and the three Copernicus services Copernicus Climate Change Service (C3S), Copernicus Atmosphere Monitoring Service (CAMS) and Copernicus Emergency Management Service (CEMS).
The hackathon was divided into three challenge categories: (1) Get Out, (2) Get Geeky and (3) Get Creative, designed to encourage participants to come up with creative uses of open weather and climate data. Reading Buses and Snowflake software were two additional open data providers for the hackathon.
Twenty teams worked day and night to unleash the potential of ECMWF's open data. The judging panel that consisted of Dr Florence Rabier (Director-General, ECMWF), Juan Garces de Marcilla (Director, ECMWF Copernicus Services), Helen Turvey (CEO, Shuttleworth Foundation), Denise McKenzie (Executive Director, Communications and Outreach, Open Geospatial Consortium) and Tony Pettitt (CFIO, Reading Buses) nominated a winner for each category.
And the winner is ...
The winner of the Get Out challenge was the project HydroNEXT, who developed a web application that uses river discharge forecast data from the GloFAS project and river flow data from the Copernicus SWICCA project to calculate projected energy generation of a specific hydro-electrical plant.
The winner of the Get Geeky challenge was the project "Reading Buses accident and breakdown prediction", who developed a machine-learning model that predicts the probability of accidents for buses in response to weather conditions. Besides bus data, the model uses climate reanalysis data, as total precipitation, snow fall, evaporation and total column ozone.
The Get Creative category had two winners: Team Diversity investigated the impact of weather and climate on animal migration in Kenya, based on a geospatial analysis. The second first place was awarded to team CWS+, which developed a water disease prevention system for Kenya. Based on rainfall predictions the system predicts the likelihood of diseases, droughts, water shortage problems and floods.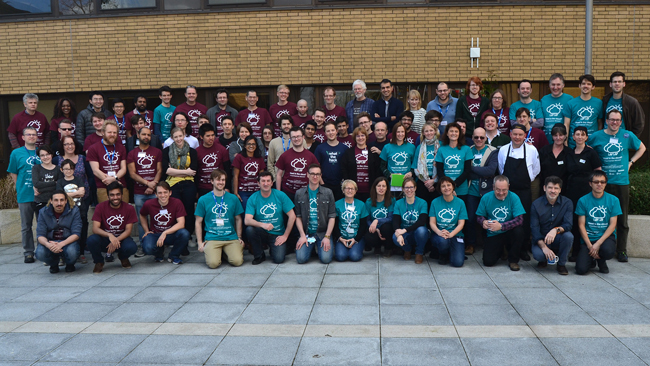 All teams came up with very creative uses and all projects showed the importance of combining open weather and climate data with other available open data. The #OpenDataHack was part of the International Open Data Day on 4 March 2017, that brought together more than 100 events worldwide this year to raise awareness of the importance and benefits of open data.
Data wrangling continues...
Right after the hackathon, Copernicus Atmosphere Monitoring Service (CAMS) launched its first predictive modelling competition on kaggle:
Competition closed 5 May 2017. Kaggle offered a forum where you can ask any questions you have regarding data and the competition itself. Some practical examples (code snippets) how to manipulate the data best will be provided soon.