ECMWF is financed principally by contributions from its 34 Member and Co-operating States, which in 2014 totalled £42.0 million out of the Centre's funding of £54.5 million (net of internal tax). Revenue from sales of data and products provided additional income of £4.7 million, while funding of £7.7 million from external organisations supported research and the other goals of the Centre. ECMWF continued to invest in its staff, infrastructure and systems to provide the highest-quality products to its Member and Co-operating States.
ECMWF's budget remains on a cash basis and the Financial Statements include a reconciliation of the results under IPSAS and in cash terms. Under cash accounting, the Centre generated a surplus of £1.0 million in 2014, which is available either for future investment or distribution to Member States according to a decision to be made by the Council in 2015.
The Centre's future pension and post-employment medical cost obligations have been valued at £181.3 million and are fully guaranteed by the Member States.
The main areas of expenditure were remuneration and related items (£24.2 million; £18.9 million net of internal tax), pension and post-employment benefits (£5.5 million), computer expenses (£15.1 million) and buildings (£3.8 million). Net finance costs were £4.9 million. Costs associated with externally funded research projects amounted to £7.5 million (£6.0 million net of internal tax, of which £5.0 million were personnel costs). Capital investment, principally in IT and infrastructure,
totalled £2.3 million.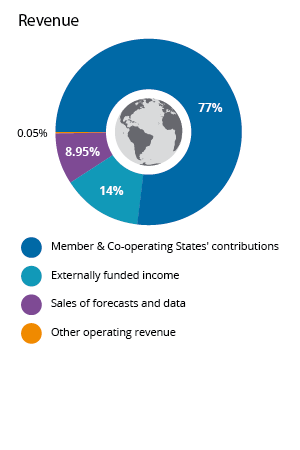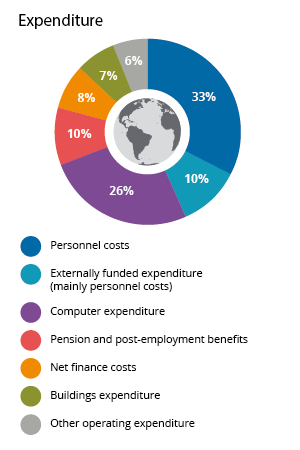 Statement of Financial Performance for the year ended 31 December 2014
| Revenue | £k | £k |
| --- | --- | --- |
| | 2014 | 2013 |
| Member & Co-operating States' contributions | 41,997 | 41,184 |
| Taxes | 6,827 | 6,705 |
| Externally funded income | 7,700 | 6,876 |
| Sales of forecasts and data | 4,748 | 4,450 |
| Other operating revenue | 19 | 45 |
| | 61,291 | 59,260 |
| Expenditure | £k | £k |
| --- | --- | --- |
| Personnel costs | 24,223 | 23,667 |
| Pension and post-employment benefits | 5,547 | 5,825 |
| Buildings expenditure | 3,847 | 3,837 |
| Computer expenditure | 15,086 | 14,769 |
| Other operating expenditure | 3,283 | 3,115 |
| Externally funded expenditure1 | 7,524 | 7,037 |
| | 59,510 | 58,250 |
| Operating surplus | 1,781 | 1,010 |
| Net finance costs | (4,859) | (6,087) |
| Net deficit for the year | (3,078) | (5,077) |
1 Externally funded expenditure is inclusive of optional programme expenditure
| Reconciliation of IPSAS and Cash Results | £k | £k |
| --- | --- | --- |
| Net deficit for the year | (3,078) | (5,077) |
| Assets capitalised in the year | (2,261) | (3,620) |
| Depreciation in the year | 2,457 | 2,279 |
| Spend on commitments from previous years | 1,847 | 2,136 |
| Commitments carried forward to future years | (2,092) | (1,847) |
| Finance costs for post-employment benefit | 4,681 | 6,260 |
| Post-employment benefit | (556) | (37) |
| Accruals | (181) | 678 |
| Prepayments | 210 | 344 |
| Change in inventory | (81) | 391 |
| Other IPSAS timing differences | 67 | 527 |
| Surplus per cash accounts | 1,013 | 2,034 |
| Member States' Contributions | £k |
| --- | --- |
| | 2014 |
| Austria | 898 |
| Belgium | 1,129 |
| Denmark | 759 |
| Finland | 595 |
| France | 6,363 |
| Germany | 8,139 |
| Greece | 743 |
| Iceland | 32 |
| Ireland | 498 |
| Italy | 5,016 |
| Luxembourg | 95 |
| Netherlands | 1,888 |
| Norway | 934 |
| Portugal | 539 |
| Slovenia | 115 |
| Spain | 3,415 |
| Sweden | 1,081 |
| Switzerland | 1,105 |
| Turkey | 1,159 |
| United Kingdom | 6,044 |
| | 40,547 |
| Co-operating States' Contributions | £k |
| --- | --- |
| | 2014 |
| Bulgaria | 53 |
| Croatia | 72 |
| Czech Republic | 209 |
| Estonia | 24 |
| Former Yugoslav Republic of Macedonia | 10 |
| Hungary | 153 |
| Israel | 205 |
| Latvia | 35 |
| Lithuania | 47 |
| Montenegro | 4 |
| Morocco | 93 |
| Romania | 202 |
| Serbia | 45 |
| Slovakia | 97 |
| | 1,249 |
| Single Additional Contributions | 201 |
| Total Member & Co-operating States' Contributions | 41,997 |