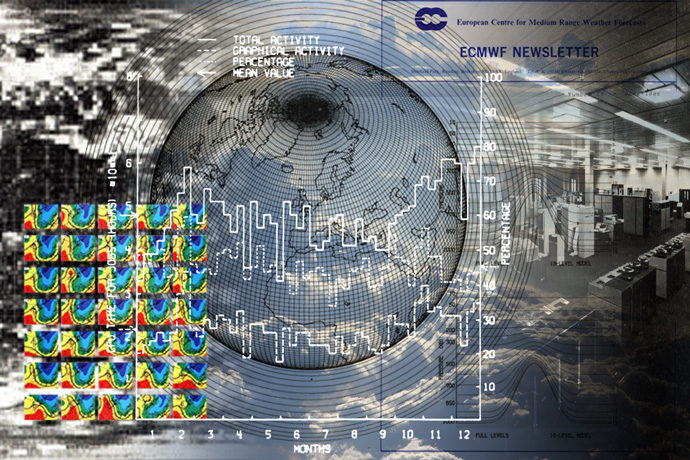 Back issues of the ECMWF Newsletter previously only published in paper form are now available in our eLibrary, along with all Newsletter feature articles published since spring 2005.
Newsletter back issues
The ECMWF Newsletter was first published in 1980. Dr. Daniel Söderman, Head of the Operations Department at the time, announced in that first issue in February that ECMWF had built a "computer complex with a CRAY-1 'number cruncher', a CDC CYBER 175 'front-end' and a Regnecentralen RC8000 tele-communications system", while the "telecommunication links between ECMWF and the meteorological offices of the Member States" were being set up.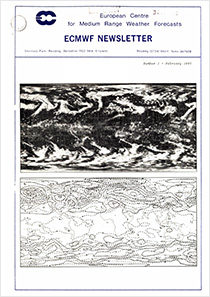 Updates on the Centre's computing and telecommunications systems have remained a staple feature over the years, as have articles charting scientific progress and changes to the forecasting system.
For example, when in May 1986 the vertical resolution of ECMWF's operational forecasting system was increased from 16 to 19 levels, Newsletter No. 34 reported on the impact:
"Much improved stratospheric analyses of the mass and wind fields result from the use of the first-guess fields derived from the 19-level forecast model, removing, in particular, strong spurious vortices which sometimes occurred in the tropical stratosphere with the previous system. The 19-level model also has a beneficial impact on the quality of the forecast. A better simulation of the vertical propagation of planetary waves is observed with the 19-level model."
By 1998, the Centre was "developing versions of its model and analysis with higher vertical resolutions, in particular 50 and 60 levels," as reported in Newsletter No. 82. Today, the atmospheric model of the Integrated Forecasting System uses 91 levels for the ensemble forecast and 137 levels for the high-resolution forecast.
The three issues of the Newsletter quoted here, together with all other issues previously only published in paper form, have been digitised and are available in our eLibrary.
Feature articles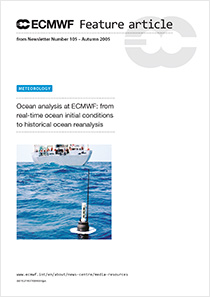 We have also made available ECMWF Newsletter feature articles published since spring 2005 as individual records in our eLibrary. This way any user can easily find any article by title or author name. Although the ECMWF Newsletter is not a peer-reviewed publication, all feature articles have a digital object identifier (DOI) assigned, facilitating their citation.
Feature articles cover scientific and operational developments at ECMWF, collaboration in international projects, case studies of meteorological events, and uses of ECMWF products. Readers interested in reanalysis, for instance, can now easily find out about progress over the years, from the state-of-the-art approach to ocean reanalysis in 2005 to the latest developments in coupled satellite-era reanalysis in 2018.
The ECMWF Newsletter is published quarterly and contains news articles as well as more in-depth feature articles. Recent issues are listed on the media resources page.